Bullmastiff Dog Collar Handmade of 2 Ply Thick Leather
Bullmastiff dog collar choice should be based on such qualities as durability, strength, quality of materials and comfort for you and your dog. Our specialists designed an extremely strong 2 ply leather dog collar for big mastiff dogs like Bullmastiff. This big and strong dog collar is amde of thick genuine leather, that is reliably stitched. The joints are additionally riveted for the best durability. Strong leather dog collar is equipped with a brass buckle and solid D ring for a dog lead adjusting. Regulation of size is available with a buckle and 5 holes for fixation. It allows to use this leather dog collar while your dog is growing.
View a larger image by clicking on the pictures
The key characteristics of this Bullmastiff Dog Collar:

premium quality
strong and soft genuine leather
2 ply
reliably stitched
additional fixation with brass rivets
fur protection plate
strong buckle
easy size regulation
cast brass D ring for a dog lead

Intended use of this Leather Dog Collar:

comfort in daily use on a large Mastiff dog
attack/agitation training
off leash training
obedience training
daily dog walking of a strong dog like Bullmastiff

Available sizes:

over 17 sizes
width 1 3/4 inch (45 mm)

Available colors:
Click on the pictures to see a bigger image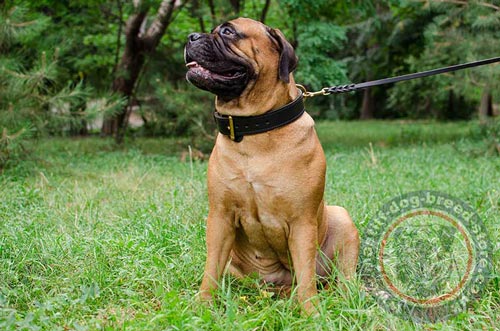 Strong Leather Bullmastiff Dog Collar
Click on the pictures to see a bigger image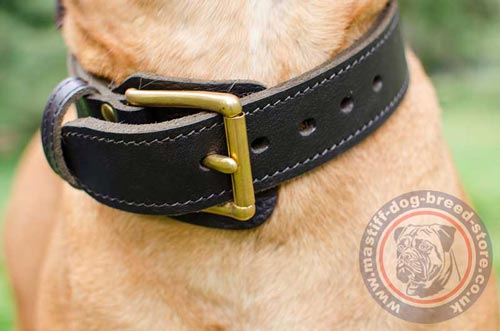 Large Leather Dog Collar with Buckle
Click on the pictures to see a bigger image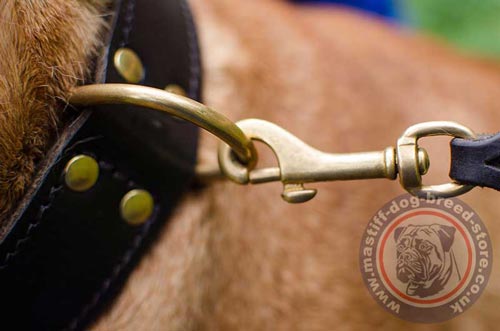 Handmade, Reliably Riveted Dog Collar with Solid D Ring
How to choose a dog collar size:

Please, be advised, that:
Choose neck size from the options at the top and we will make a dog collar fitting on a central hole (С at the scheme).
Each dog collar with buckle has 5 holes on the distance of 1 inch (25 mm) between each two holes.
Example: if a dog neck size is 20 inches (50 cm), a collar will have size 20 in (50 cm) on the central hole.
There will be 2 smaller size holes - 18 inch (45 cm) and 19 inch (47.5 cm).
There will be 2 bigger size holes - 21 inch (52.5 cm) and 22 inch (55 cm).
There will also be tip of the collar after last hole about 2 inch long (5 cm).
These dog collars are handcrafted and some sizes will differ a little (not in significant way). But you will always have the chance to adjust it maximum fit for your dog.
Choose 2 ply leather collars and padded leather dog collars size 1 inch bigger to make sure that it will fit your dog.
The detailed information about these Leather Dog Collars for Mastiff:
Our Bullmastiff supplies are made of ecologically safe materials. These leather dog collars are absolutely safe for dog's health.
We use only quality genuine leather, that is well done and oiled to make its use reliable and look attractive for a very long-term of regular use.
This leather dog collar for Bullmastiff is equipped with rustproof, safe polished details:
special super strong, cast D-ring for leash attachment, which will help you to control your strong dog better and manage its temper.
strong brass buckle, that will help to fix a dog collar maximum comfortably on your pet.
the buckle is covered by a soft leather plate inside for fur and dog neck protection.
safe polished, rustproof brass rivets for additional super strong fixation of this leather dog collar.
It is adviced to take special care of leather dog collar and other leather items to make it look and serve you much longer.
All leather dog collars have the International Quality Certificate.