Handmade Leather Dog Collar for Bullmastiff Gorgeous Look
Handmade leather dog collars UK bestsellers are made for royal style of your canine!
These royal dog collars are produced of top quality genuine leather. The surface leather is well done and thick to keep its perfect look for a long time even if used regularly.
Bullmastiff collars made of genuine leather are also padded with soft inner nappa lining. It is reliably stitched with waxed elegant white stitch.
The special royal look is accomplished with plated leather braids and vintage brass medals.
Check how these Handmade Leather Dog Collars look on Bullmastiff
Pictures from Customers
View a larger photo by clicking on the pictures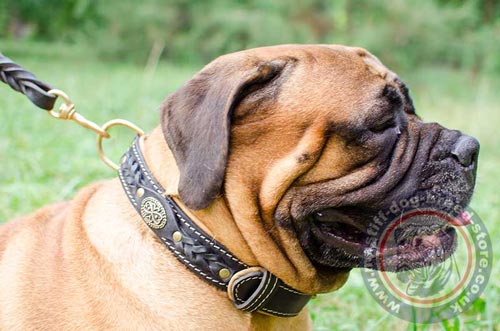 Strong Leather Dog Collar with Soft Lining and Braided Design
View a larger photo by clicking on the pictures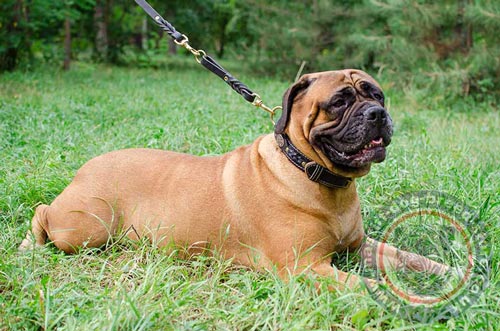 Perfect Choice of Nice and Strong Dog Collar for Bullmastiff
In spite of its royal fine look, it is a classic leather dog collar with buckle. This leather dog collar design is very practical, reliable and strong for big mastiff dogs like Bullmastiff. Turn your attention to reliable rivets, strong brass buckle and solid D ring for a dog lead and tug adjusting.
View a larger photo by clicking on the pictures
The major characteristics of these Bullmastiff Dog Collars:

quality, selected, genuine leather
padded with soft Nappa (calve leather)
strong brass rivets, buckle and ring
Rustproof hardware and designer details
waxed, polished edges for comfort and reliability
strong and elegant white stitching
easily adjustableand regulated size
leather buckle plate for neck and fur protection
strong, cast D-ring
elegant braided design and vintage brass medals

Intended use of these Handmade Dog Collars:

daily dog walking
fashion of your dog
dog obedience training
reliable control over a big bullmastiff dog

Available sizes:

1 1/2 inch (40 mm) wide
Choose dog neck size from the options at the top of the page

Available colors:
Define your Mastiff dog size for a Collar:

Please, be advised, that:
Choose neck size from the options at the top and we will make a dog collar fitting on a central hole (С at the scheme).
Each dog collar with buckle has 5 holes on the distance of 1 inch (25 mm) between each two holes.
Example: if a dog neck size is 20 inches (50 cm), a collar will have size 20 in (50 cm) on the central hole.
There will be 2 smaller size holes - 18 inch (45 cm) and 19 inch (47.5 cm).
There will be 2 bigger size holes - 21 inch (52.5 cm) and 22 inch (55 cm).
There will also be tip of the collar after last hole about 2 inch long (5 cm).
These dog collars are handcrafted and some sizes will differ a little (not in significant way). But you will always have the chance to adjust it maximum fit for your dog.
Choose 2 ply leather collars and padded leather dog collars size 1 inch bigger to make sure that it will fit your dog.