Bullmastiff Harness UK Bestseller - Padded Dog Harness Large Size
Choose the favorite padded dog harness UK bestseller for large dog breeds like Bullmastiff! Super comfortable, top quality leather dog harness is handmade by professionals. This padded dog harness large size is esipecially designed to be extremely strong and durable for a powerful Bullmastiff. At the same time this leather dog harness is very comfortable for dog body. The soft lining at the front and back plates prevents rubbing. Thus this dog harness is very comfortable for active dog walking, training, service and sport.
Y shaped chest palte of Bullmastiff body harness protects dog chest from hurts in training.
There is an option of back handle for better control over Bullmastiff temperament and strength.
View a larger image by clicking on the pictures
The benefits of this Bullmastiff Dog Harness:

top quality natural leather
brass hardware
Y-shaped chest leather plate with soft padding
strong straps
easy and reliably adjustable
regulation buckles
handmade
reliably stitched, riveted cast D-ring for a lead
back handle for fast grip and control

Intended use of this Bullmastiff Harness UK:

dog walking
dog training
dog sport
tracking
service dogs K9
medium and large dog breeds

Available sizes:

medium size
large size
extra large size

Available colors:
Mastiff dog breeds are the largest and the strongest canine representatives. You need a really quality gear to handle this dog. Though mastiff temperament is calm and friendly and sometimes a dog is even unaware of its power, fortunately :). This padded dog harness is intended especially for the needs of a Bullmastiff owner. Our Bullmastiff body harness is super strong and comfortable! Dog trainers and owners use it for dog training in attack, agitation and for reliable control over a strong dog in daily walking. Elegant design of this Bullmastiff harness will make your dog look elegant and feel comfy.
Check how this Best Dog Harness looks on Mastiff dog breeds
Pictures from Customers
View larger Bullmastiff pictures by clicking on the images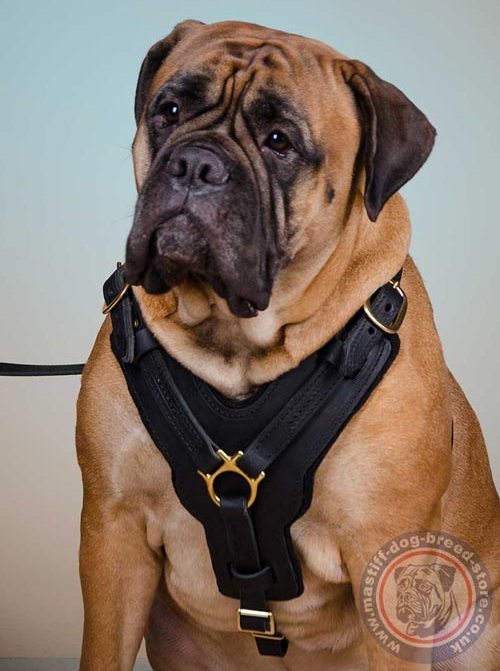 The Bestseller Dog Harness for Bullmastiff
View larger Bullmastiff pictures by clicking on the images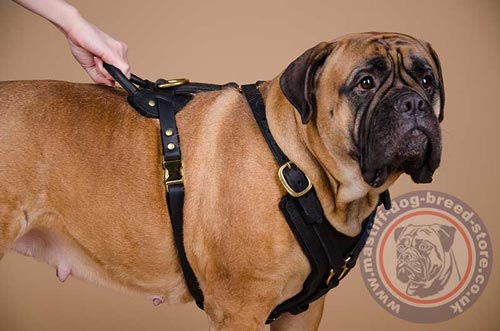 Bullmastiff Padded Dog Harness with Handle