Bullmastiff Leather Dog Collar with Soft Nappa Lining and Extremely Strong Brass Hardware!
This leather dog collar combines super comfort and strength for a large Bullmastiff dog.
Bullmastiff leather collar is aimed to make your dog feel comfortable in daily walking, training, trackign and work.
It is a classic design of a leather dog collar with buckle but padded with soft leather lining, reliably stitched, equipped with reliable brass hardware.
40 mm width of this Bullmastiff collar will endure huge loadings and is felt comfortable on large dog's neck. Soft lining prevents rubbing of dog's neck while active exercises and running. Our advices will help to prolong the life span of leather dog collars.
Click on the pictures to enlarge
The key info of these Bullmastiff Leather Collars:

premium quality leather
2 ply, thick
handmade
with soft calve leather lining
brass buckle and D-ring
fur protection plate at the buckle

Intended use of these Leather Dog Collars:

as walking dog collars
as dog collars for training
for medium and big dogs, strong dogs

Available sizes:

over 15 sizes
1.6" (4 cm) wide

Available colors:
Check how these Bullmastiff Leather Dog Collar looks on a dog
Pictures from Customers
Click on the Bullmastiff pictures to enlarge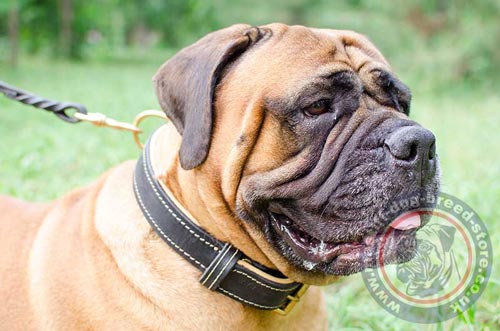 Padded Dog Collar for Bullmastiff Comfort
Click on the Bullmastiff pictures to enlarge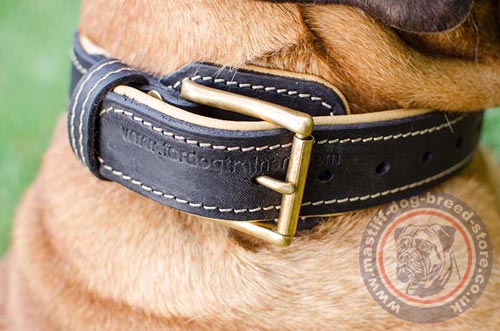 Bullmastiff Leather Dog Collar with Buckle
This dog collar has strong stitching to serve you a long life! Turn attention to the simple but comfortable and strong details of this leather dog collar.
Define Bullmastiff collar size:

Please, be advised, that:
For buckle collar when you specify neck size we will make collar fit on central hole.
There will be total of 5 holes and distance between each 2 holes is 1 inch (25 mm).
For example: your dogs neck size is 20 inches (50 cm). Collar will fit on central hole at 20 inches (50 cm).
There will be 2 smaller size holes - 18 inch (45 cm) and 19 inch (47.5 cm).
There will be 2 bigger size holes - 21 inch (52.5 cm) and 22 inch (55 cm).
There will also be tip of the collar after last hole about 4 inch long (10 cm).
Those are handcrafted collars and some sizes will differ a little (not in significant way).
2 ply leather collars are thick. A padded dog collar will fit dog's neck size at the 2-3rd hole in folded position. When stretched flat its length will correspond to dog's neck at the 1st-2nd hole.
Order now and enjoy quality and comfort!
You may also like: