Dog Collar with Metal Nameplate for Bullmastiff
Secure your four-legged friend! Get a top quality daily dog collar with metal nameplate. It is a simple, classic leather dog collar with buckle that is a first need dog accessory for daily comfort and control over your Bully!
Natural leather dog collar with metal nameplate is well-done and waxed. Smooth polished edges will not wear out for years of regular use.
Bullmastiff leather dog collar is intended for a strong dog. Be sure it is under control! Rustproof hardware is made of chrome plated steel. Strong buckle will help you to regulate the collar size while a dog is growing. Solid D ring is a durable tool for dog walking on a leash.
The main features of this Dog Collar with Metal Nameplate:

top quality dog safe materials
classic design
practical
steel nickel plated hardware
hand set ID tag with rivets
rustproof fittings
reliably polished, rounded and waxed edges of leather belt for long term use with comfort and brilliant look

Intended use of this Bullmastiff Leather Dog Collar:

multipurpose use
dog walking
dog training
daily wearing on your dog
Bullmastiff and other medium and large dogs

Available sizes:

1 1/4 inch (30 mm) wide
1 1/2 inch (40 mm) wide

Available colors:
Look how this ID Dog Collar looks on Bullmastiff
Pictures from Customers
Click to view a larger size of Bullmastiff pictures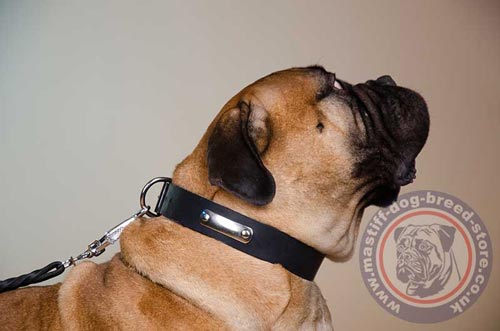 Classic Design for Reliability, Comfort and Daily Use
Click to view a larger size of Bullmastiff pictures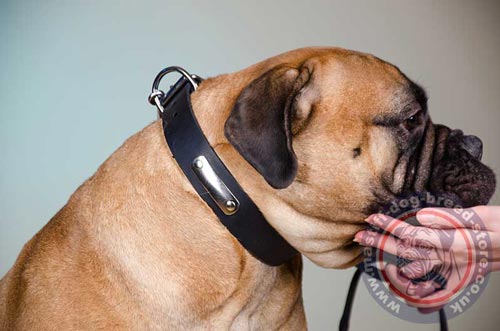 Simple and Perfect Dog Collar for Bullmastiff!
How to measure your Mastiff for a good fit Collar:

Please, turn your attention:
Please, choose the neck size from the options at the top of the page and we will make collar fit on central hole.
There will be total of 5 holes and distance between each 2 holes is 1 inch (25 mm).
For example: your dogs neck size is 20 inches (50 cm). Collar will fit on central hole at 20 inches (50 cm).
There will be 2 smaller size holes - 18 inch (45 cm) and 19 inch (47.5 cm).
There will be 2 bigger size holes - 21 inch (52.5 cm) and 22 inch (55 cm).
There will also be tip of the collar after last hole about 2 inch long (5 cm).
Those are handcrafted collars and some sizes will differ a little (not in significant way).