Bullmastiff Collars UK Collection - Handmade Dog Collars UK Bestseller with Brass Plates
Your Bullmastiff is a special dog. It is an original pure breed representative that requires special dog accessories. Make your Bullmastiff look elegant and feel comfortable with a vintage dog collar. It is designed especially for mastiff dog breeds to underline their power and regal bearing.
Genuine leather dog collars are handmade by professionals. Handmade dog collars UK bestsellers will become the favorite tools for dog walking and training of your Bullmastiffs!
Handmade dog collars are crafted with attention to every detail. Brass plates are smooth polished and reliably riveted. The leather belt is thick and wide to make your big dog controlled.
Strong brass buckle is intended to adjust the collar easily and regulate its size while your Bullmastiff is growing. As Bullmastiffs are growing till 2 years old, it is a n important characteristic of a collar for your young Bullmastiff dog.
The tip of leather belt is fixed by square ring.
Nothing exessive, the most functional and elegant details only.
Larger photos are available after click at the images
The key features of the Bullmastiff Collars:

premium quality, genuine leather and luxury brass details
certified quality
handmade for super reliability, perfect look and comfort
reliably riveted fittings
vintage brass old-style plates
welded D-ring for dog lead

Intended use of the Handmade Vintage Dog Collars:

daily accessories for large dogs like Bullmastiff
strong dog control
dog walking, dog training and vet visiting

Available sizes:

choose dog neck size at the top of the page
1.5 inch (40 mm) wide

Available colors:
Handmade Dog Collar Size:

Important information:
Choose neck size from the options at the top and we will make a dog collar fitting on a central hole (С at the scheme).
Each dog collar with buckle has 5 holes on the distance of 1 inch (25 mm) between each two holes.
You will be able to re-adjust a collar, if you need a smaller size (holes A, B) or a larger size (D, E)
There will also be tip of the collar after last hole about 2 inch long (5 cm).
Neapolitan Mastiff looks brilliant wearing this fashionable, wide leather dog collar and brass plates underline its strength.
Check how these Handmade Dog Collars of vintage plated style look on Bullmastiff
Larger photo is available after click at the image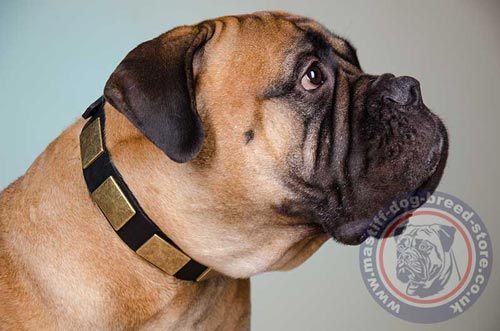 Vintage Style for a Powerful Dog
Choose handmade dog collars UK favorite dog accessories!
If you want to view more dog collars, you are welcome to Bullmastiff Collars Collection