Dog Nylon Collar Studded with Medallions
Dog nylon collar is a great dog accessory for daily dog walking of your Bullmastiff. We created this dog nylon collar to be strong, durable for your big mastiff dog and fashionable at the same time. First of all, it is a classic dog buckle collar with solid D ring. Its simple and comfortable design makes it a multipurpose tool for dog walking, control and training. Nylon is a very durable fabric, that does not wear out for a long time. Dog nylon collar is easy to clean and store. Strong dog collars of nylon may be used in any weather and will not loose their strength and shape. All metal details are rustproof. Studded dog collar with vintage medallions will make your dog look elegant.
Larger photos are available after click at the images
The main features of this Dog Nylon Collar:

2 ply nylon belt
maximum durability
functional and easy in use
classic and reliable buckle design
solid D ring for lead adjusting
rustproof chrome-plated hardware
hand set silver-style conchos
exclusive vintage design

Intended use of this Dog Buckle Collar:

handling your strong mastiff
dog training
Mastiff daily dog walking on/off leash

Available sizes:

1 3/4 inch (45 mm)
0.66 lb (0.3 kg) weight

Color:
Dog Nylon Collar studded with medallions looks great on Bullmastiff
Pictures from our customers
Larger photos are available after click at the images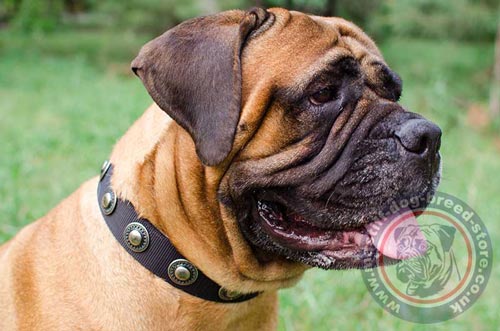 Strong and Fashionable Bullmastiff Dog Collar
Mastiff dog buckle collar size:

NB:
Choose neck size from the options at the top and we will make a dog collar fitting on a central hole (С at the scheme).
Each dog collar with buckle has 5 holes on the distance of 1 inch (25 mm) between each two holes.
Example: if a dog neck size is 20 inches (50 cm), a collar will have size 20 in (50 cm) on the central hole.
There will be 2 smaller size holes - 18 inch (45 cm) and 19 inch (47.5 cm).
There will be 2 bigger size holes - 21 inch (52.5 cm) and 22 inch (55 cm).
There will also be tip of the collar after last hole about 2 inch long (5 cm).
These dog collars are handcrafted and some sizes will differ a little (not in significant way). But you will always have the chance to adjust it maximum fit for your dog.