Square Studded Dog Collar for Bullmastiff and Big Mastiff Dogs
Large studded dog collar for Bullmastiff is produced of strong 2-ply nylon. It is incredibly strong for big mastiff dogs. You may be sure that your giant beast is under reliable control in walking and in public. Square studded design will add masculine chic to your four legged friend. Classic buckle is comfortable and easy to adjust. The D ring for a dog lead is solid. Choose a reliable, nice and strong dog accessory for your large dog.
Click and enlarge the image of these nylon dog collars
Information about the Big Studded Dog Collars:

safely handmade
chrome-plated fittings
elegant rectangular plates
strong nylon
2 ply belt
strong metal buckle and ring

What is this Square Studded Dog Collar for?:

big mastiff dog
Bullmastiff and other medium and large mastiff breeds
Bullmastiff walking daily
control a dog in public
control over Bullmastiff temperament

Sizes of these Bullmastiff Collars:

1 1/2 inch (40 mm) wide
weight - 0.71 lb (320 gr)
for dog's neck 14-40 in (35-100 cm)

Color of Square Studded Dog Collar:
Big Studded Dog Collars look gorgeous on Bullmastiff dogs
Look at the pictures from our customers
Click and enlarge the image of these nylon dog collars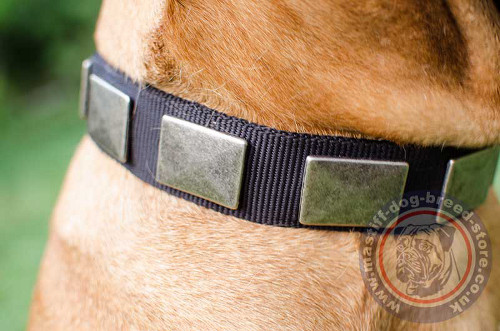 Bullastiff Collars for a Nice Look and Comfy Walking
Nylon Dog Collars for Big Dogs have the following size:

Size of the nylon dog collars for mastiff:
There are 5 holes for buckle adjustment.
The distance between the holes is 1 in (2.5 cm).
The collar will correspond to the neck of your dog at the central hole (C).
The 2 additional holes by each side serve to regulate the size if your dog grows or loses weight.
Get this fancy dog collar of top quality from the producer directly!