Beautiful Dog Collars for Your Pretty/Handsome Doggies
Choose a beautiful dog collar for your mastiff!
Our specialists try their best to create a really strong dog collar that would ensure huge loadings. We create quality dog collars especially for mastiff dogs of medium and large size. You may be sure that it will serve you for a long time.
These quality dog collars are made of a strong nylon, 2-ply, reliably stitched. All metal details and adornments of these beautiful dog collars are reliably riveted. They are rustproof and safely polished. Walk your Bullmastiff in style and control!
These beautiful dog collars are easy adjustable with a classic buckle.
Click and enlarge the image of these beautiful dog collars
Information about these Beautiful Dog Collars:

awsome coned design
chrome-plated fittings
2 ply nylon collar
reliable stitching and riveted fixation
strong metal buckle and solid D ring

What are these Beautiful Dog Collars for?:

big mastiff dogs
dog walking of your mastiff with comfort and style
basic dog training
control of Bullmastiff temperament in public, at home, etc.
middle and big dogs

Sizes of these Quality Dog Collars:

1 1/2 inch (40 mm) wide
weight - 0.62 lb (280 gr)
for dog's neck 14-40 in (35-100 cm)

Color of the Quality Dog Collars:
Nylon Dog Collars with metal cones look great on Bullmastiff
Look at the pictures from our customers
Click and enlarge the image of these quality dog collars
Top Quality Dog Collars for Bullmastiff
Click and enlarge the image of these quality dog collars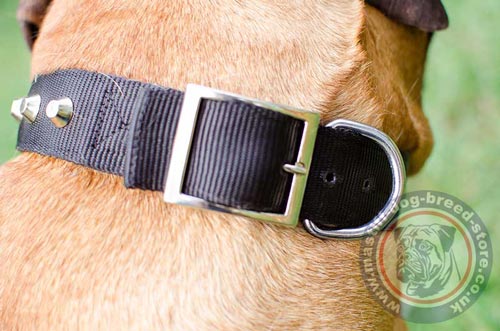 Strong Nylon Dog Collar with Buckle for Bullmastiff
Studded Dog Collars with buckle for Bullmastiff have the following size:

Size of the nylon dog collars for mastiff:
There are 5 holes for buckle adjustment.
The distance between the holes is 1 in (2.5 cm).
The collar size corresponds to the neck size of your dog at the central hole (C).
The 2 additional holes by each side serve to regulate the size if your dog grows or loses weight.
Choose strong, beautiful dog collars with cones, that combine strength, comfort and style.