Bullmastiff Collars UK Bestsellers for Amazing Look of Your Dog!
Strong leather dog collar with nappa lining is a special model of Bullmastiff collars! This designer dog collar is created especially for the most exacting customers and loving breeders. If you wish to pamper your pet with an exclusive dog collar, choose this soft padded dog collar with brass spikes. Each element of its design is carefully hand set, polished and well-done. Genuine leather of premium quality and rustproof, glossy brass details emerged in the luxury style of this strong leather dog collar for your beloved giant! Strong leather dog collar is reliably stitched with armored threads of white color that creates also a special elegant look. Turn your attention also to a strong, massive brass buckle. But the neck of your dog is carefully protected by a leather plate that covers a buckle to save dog fur and skin from rubbing. The spikes are smooth rounded for maximum safety of the adornments.
The key characteristics of this Strong Leather Dog Collar:

premium quality leather
rustproof brass hardware
smooth polished edges and cuts
reliably stitched and riveted
solid D-ring for a dog lead
soft calve leather lining

Intended use of this Soft Padded Dog Collar:

careful walking of your dear dog
dog show
comfortable and reliable control over a strong dog like Bullmastiff

Available sizes:

over 25 sizes available
1 1/2 inch (40 mm) wide
Weight 1.14 lbs (520 g)

Available colors:
Choose a proper size of this leather dog collar for your Bullmastiff:

Size of the nylon dog collars for mastiff:
There are 5 holes for buckle adjustment.
The distance between the holes is 1 in (2.5 cm).
The collar size corresponds to the neck size of your dog at the central hole (C).
The 2 additional holes by each side serve to regulate the size if your dog grows or loses weight.
Check how this Spiked Dog Collar looks on Bullmastiff
Pictures from Customers
Click on the pictures to see bigger image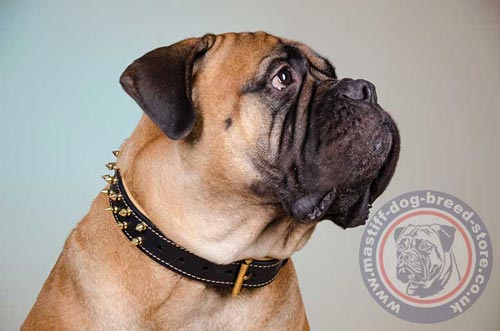 Bullmastiff Collar for a Pampered Dog
Click on the pictures to see bigger image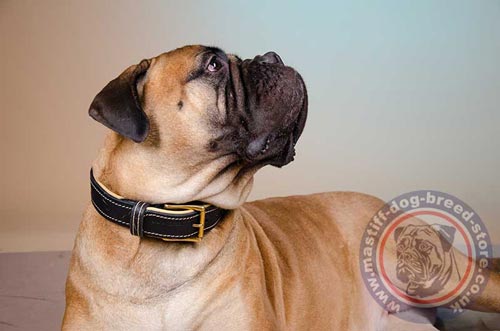 Strong Leather Dog Collar with a Reliable Brass Buckle
Click on the pictures to see bigger image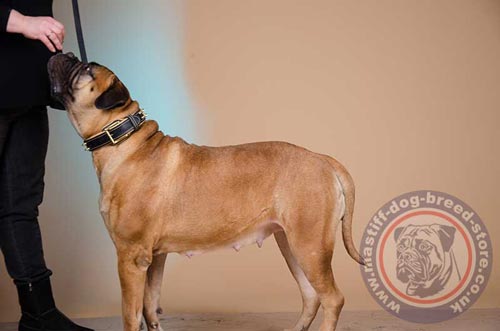 Soft Padded Dog Collar for Dog Comfort and Reliable Control