Bull Mastiff Collar for Big Dogs Comfort and Controlled Walking, Training and Service
Simple and smart Bull Mastiff collar design is a durable dog accessory to control a strong dog. It is a handmade leather dog collar, thick and strong. This soft dog collar is padded with thick felt to protect sensitive dog skin and keep its fur in a perfect condition, healthy and shiny. The 2 plies of leather and felt are reliably stitched with armored thread. Classic design of this leather dog collar is easy and comfy to adjust and use daily. This soft dog collar for Bullmastiff has a strong buckle and ring. 1 in wide leather belt does not bother a dog even in active walking and training. Choose this soft dog collar to control your dog safely and comfortably for its neck.
Click on the pictures to see bigger image
The key features of this Soft Dog Collar:

full grain, natural leather
soft felt lining
reliably stitched
easily adjustable
rust resistant hardware
chrome-plated hardware

Intended use of this Bull Mastiff Collar:

dog walking
dog training
obedience/off leash training

Available sizes:

Available colors:
Check how this Soft Dog Collar looks on Bullmastiff
Pictures from Customers
Click on the picture to see a bigger image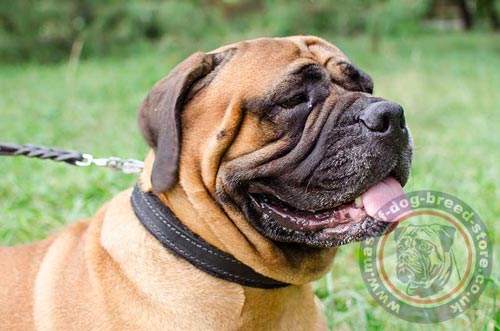 Bull Mastiff Collar for Big Dogs Training and Walking
Click on the picture to see a bigger image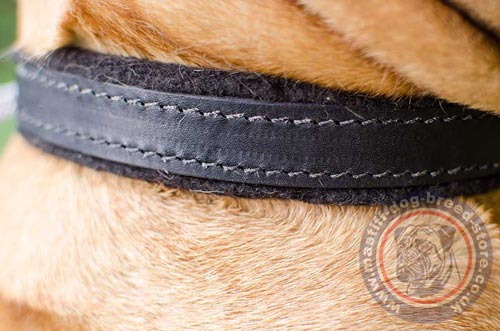 Smart and Soft Padded Leather Dog Collar
Soft padded dog collar size:

Please, be advised, that:
For buckle collar when you specify neck size we will make collar fit on central hole.
There will be total of 5 holes and distance between each 2 holes is 1 inch (25 mm).
For example: your dogs neck size is 20 inches (50 cm). Collar will fit on central hole at 20 inches (50 cm).
There will be 2 smaller size holes - 18 inch (45 cm) and 19 inch (47.5 cm).
There will be 2 bigger size holes - 21 inch (52.5 cm) and 22 inch (55 cm).
There will also be tip of the collar after last hole about 2 inch long (5 cm).
Those are handcrafted collars and some sizes will differ a little (not in significant way).
2 ply leather collars and padded leather collars are 1 inch bigger to make sure, that it will fit your dog.
Don't forget to take a proper care of leather material to prolong the time of its service.