Y Shaped Dog Harness Design for a Comfortable Control over Bullmastiff in Walking
This Y shaped dog harness is recommended for medium and big dogs like Bullmastiff. Light dog harness is comfortable, easy and reliable in use. It is made of strong but light leather straps. The special light design of leather straps does not interfere your dog in running and active walking, but it reliably keeps your pet under control. Soft, thick leather straps does not tighten dog's body and neck (like collar may do). Dog harness is a much safer dog accessory than a dog collar. The design of straps is made the way to embrace dog chest safely and allow him breathe free. All leather edges are round and smooth.
The leather straps of this dog chest harness are fastened with solid brass elements. All straps are regulated to fix this dog chest harness up to the size of your dog. There are 3 sizes and each has a definite span for adjusting. Once this dog chest harness is adjusted for your dog, you will easy take it on/off with just one side buckle. It is quick-release. All fittings are accounted for a big and strong dog. You may be sure that your dog is under reliable and comfortable control.
View a larger image by clicking on the pictures
The benefits of this Dog Chest Harness:

Top quality materials
Elegant design
Soft and light, but strong design
adjustable
Quick release buckle
2 ply leather straps at the neck
Luxury brass hardware
Absolute comfort
Strong stitching by waxed threads

What is this Light Dog Harness for?:

Mastiff breed walking
Mastiff training
Tracking
For elegant style of your dog
Daily control over your powerful mastiff

Sizes available:

Available colors:

Black
Brown
Tan (natural)
Check how this Light Dog Harness looks on Bullmastiff
Pictures from Our Customers
View a larger image by clicking on the pictures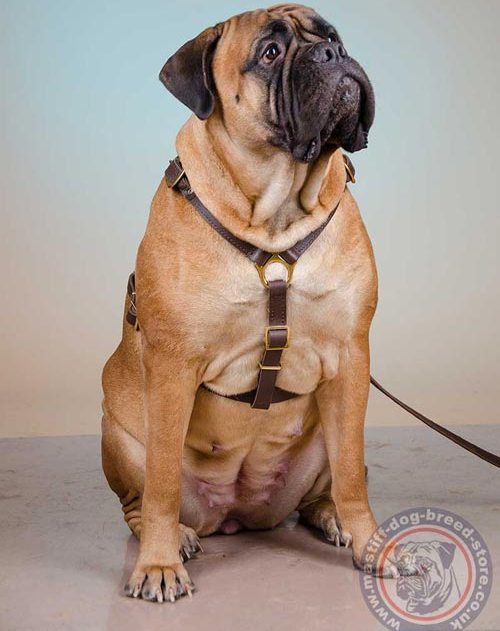 Y-Shaped Dog Chest Harness for Bullmastiff
View a larger image by clicking on the pictures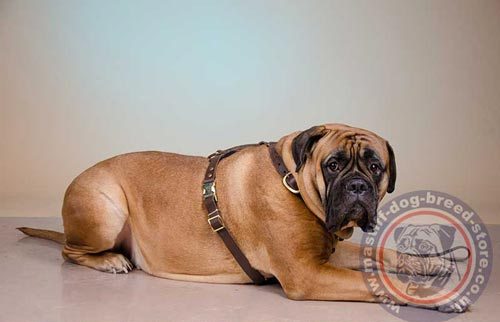 Strong and Light Dog Harness for a Big Dog Like Bullmastiff
Our company provides top quality since 1995. Try this handmade dog chest harness and enjoy comfortable dog walking, training and tracking with your mastiff. This big dog harness for big dogs will serve you for many years. Choose quality dog accessories for your dear pet.