Dog Chest Harness with Exclusive Painting "Flame"
You are very right to consider that your dog deserves the best. We stick to this point as well and that's why propose quality dog accessories, handmade of the best materials for your dear pets.
First of all, this dog chest harness is designed for a strong dog. It is made of genuine leather to undergo huge loadings of a big dog like Bullmastiff. Tha's why it the choice number one of dog trainers for Schutzhund and big dogs. This dog chest harness with triangle plate is padded with felt. It protects dog chest from rubbing and hurting in attack. A dog chest harness is also a great dog accessory to control your dog in daily walking. It has a strong back handle to keep your dog close. If you walk your dog on a leash, there is a cast D-ring at the back plate (the back plate is padded as well).
Exclusive painting "Flames" is made by hands with waterproof, durable and safe dye.
The straps of this big dog harness are regulated in a definite span within each size dimensions.
View a larger image by clicking on the pictures
The benefits of this Handmade Dog Chest Harness:

Comfortable design that does not tighten dog's neck and chest
Strong, thick leather for a big dog
Carefully padded plates for dog comfort and safety
Strong handle for close control
Exclusive painting by hands
Regulated size
Quick release buckle
Quality Certificate
Back handle

Intended use of this Big Dog Harness:

Bullmastiff walking
Bullmastiff training
Bullmastiff temperament control
For medium and big mastiff breeds and other dogs
K9
IPO
Schutzhund

Sizes available:

Available colors:
Click on image and view a larger photo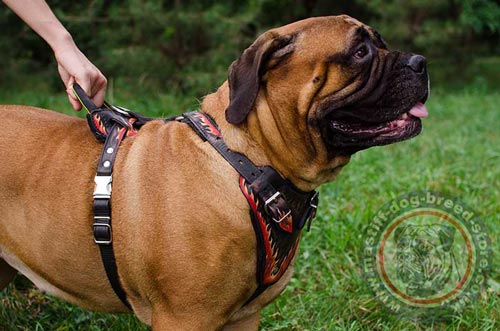 Big Dog Harness with Handle
Click on image and view a larger photo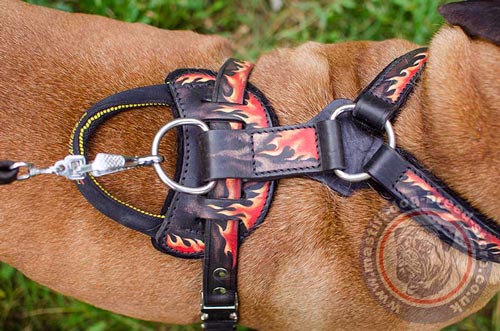 Control Your Dog in Style with Comfort
Click on image and view a larger photo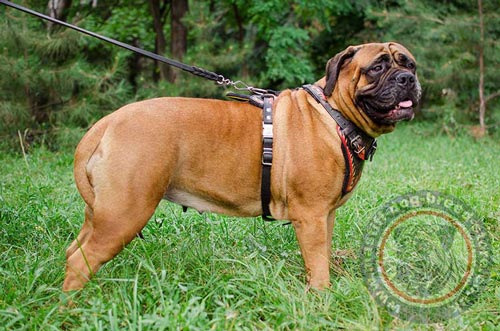 Handpainted Luxury Dog Harness Design
Manage Bullmastiff temperament with a quality dog harness. Make your dog look special.