Dog Chest Harness for Comfortable Daily Control Over a Big Bullmastiff Dog
Chest dog harness is designed to supply you and your big Bullmastiff with a stylish comfort.
Triangle leather dog harness perfectly embraces dog body and repeats its lines to let you control a big dog reliably and without causing any discomfort and irritation to your dear pet.is soft and well done. It has smooth edges that will not rub dog skin.
Bullmastiff harness has soft felt linings at the front and back plates. All the details are reliably stitched.
Triangle dog harness design perfectly fits for Bullmastiff training and walking. The leather is thick and strong to control a big dog of mastiff breed. We use solid, rustproof brass fittings to make it a strong dog accessory for Bullmastiff.
View a larger image by clicking on the pictures
Leather Dog Harness for Bullmastiff Training and Walking
Triangle Chest Dog Harness Bullmastiff Dogs
The benefits of this Triangle Chest Dog Harness:

thick and strong leather
well-done, oiled and smooth polished
nice and reliable brass fittings
padded back and chest plate
regulated length of straps with additional holes and buckles
elegant and smart design for your Bullmastiff
quick release buckle for easy taking on and off with one move
solid brass D-ring for dog lead at the back plate

What is this Bullmastiff Harness for:

big Bullmastiff dogs
reliable control over a strong dog
Bullmastiff training
tracking work
big mastiff breeds
medium and big dogs

Sizes available:

Available colors:
Check how this Triangle Chest Dog Harness looks on Bullmastiff
Pictures from Our Customers
View a larger image by clicking on the pictures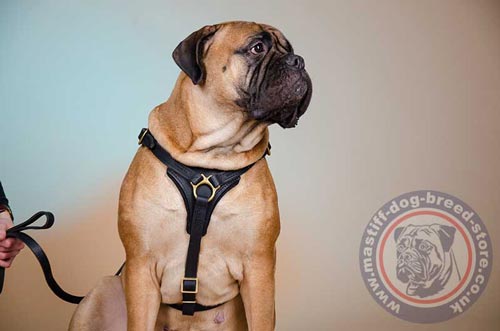 Perfect Design of Triangle Plate Makes a Dog Feel Comfortable in Walking and Training
View a larger image by clicking on the pictures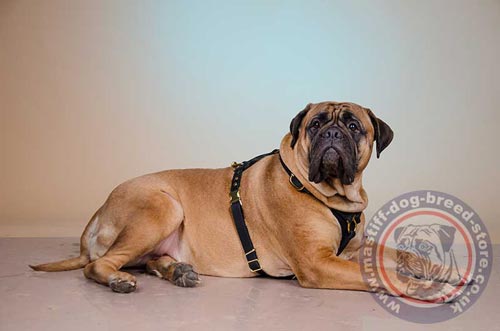 Genuine Leather Dog Harness for a Big Mastiff Dog
Choose a handcrafted dog harness that will help you to handle a big and strong dog. Genuine leather dog harness is a perfect choice for walking and training your Bullmastiff daily. You will admit at once how it makes your life easier and more comfortable.