Dog Sport Harness for Bullmastiff Training, Weight Pulling and Walking
Dog sport harness design is created for comfort of a big dog. The shape of this leather dog harness is perfect for weight pulling. Light and strong leather dog harness is made of wide leather straps: around girth and along the chest. This light dog harness design allows a dog move free but stay under your control when required.
Attach a dog lead to a back D ring and control your big dog in walking. Strong dog harness is made of thick leather and it is perfect to control Bullmastiff temperament.
Two D rings by the sides are intended for weight pulling and sport. Attach weights and train muscles of your strong dog. This sport dog harness will help you to keep your dog fit and healthy.
The front strap is padded with thick felt to reduce tension in pulling and walking and prevent rubbing.
View a larger image by clicking on the pictures
Key characteristics of the Sport Dog Harness:

Comfortable design for dog body
Even distribution of loading for weight pulling
Soft padded chest plate
Genuine leather with smooth, well-done edges
Brass hardware
3 cast D rings for a dog lead and weight pulling

Dog Sport Harness is used for:

Weight pulling
Dog walking
Tracking
Sport
Medium and big dog size

Sizes available:

Available colors:
Train muscles of your dog to keep it healthy and fit. Our leather dog harness for weight pulling will help you to control and train your Bullmastiff.
Check how this Strong Dog Harness for sports looks on Bullmastiff
Pictures from our Customers
Click on the pictures to see bigger image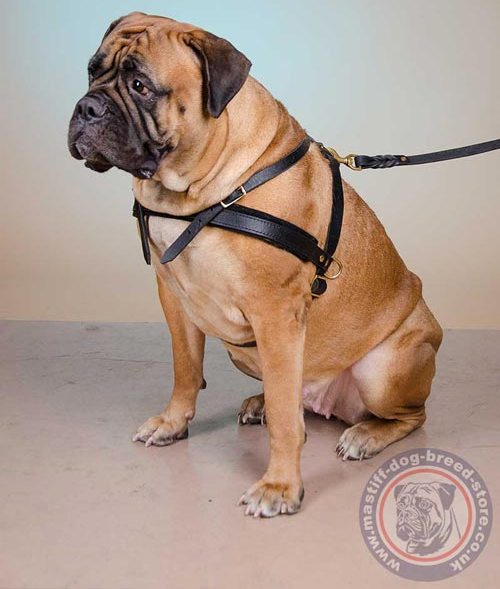 Strong Dog Harness to Control a Big Bullmastiff
Click on the pictures to see bigger image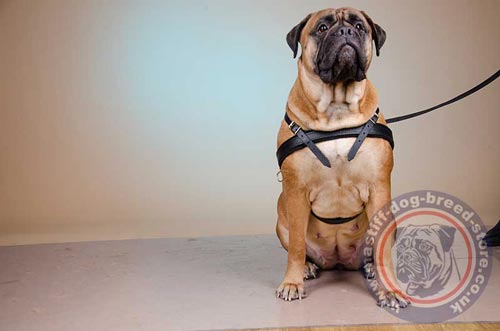 Sport Dog Harness for Bullmastiff
Choose top quality, handmade dog harness of genuine leather.