Bullmastiff Dog Harness with Padded Y Shaped Chest Plate
Bullmastiff dog harnes with Y shaped chest is very comfortable for multipurpose use. It has simple and smart design that allows to use it for control over your doggie in many daily activities. There are no excessive details. If you appreciate comfort and functionality, you will like this model of Y shaped dog harness.
Bullmastiff dog harness of thick genuine leather is handmade. It is a strong dog harness for big mastiff breeds. Control your dog reliably. There is an option of a back handle for a better control in handling Bullmastiff temperament.
Soft padded dog harness on chest and back plates is super comfy for your big mastiff dog.
All metal details of this Bullmastiff dog harness are rustproof. They are made of chrome plated steel.
This handmade dog harness with reliable stitching and riveting will serve you for many years. It is a genuine leather, so do not forget to take a proper care of it and moisture with a leather care balm.
View a larger image by clicking on the pictures
The benefits of this Bullmastiff Dog Harness:

comfortable and reliable design
chrome-plated rustproof fittings
regulated straps
genuine leather, thick and soft
soft padded Y-shaped chest plate
quick-release buckle
handmade
reliably stitched, riveted cast D-ring for a lead
back handle option for a better control

Intended use of this Bullmastiff Dog Harness:

mastiff breeds
medium and big dogs
Bullmastiff training
control Bullmastiff temperament in walking

Available sizes:

medium to extra large size

Available colors:
Bullmastiff dog breed is one of the largest and the strongest canine representatives. You need a really quality gear to handle this powerful dog. Though Bullmastiff temperament is calm and friendly, sometimes a dog is even unaware of its power. We should take a proper care to control this huge power. This strong leather dog harness is intended especially for the needs of a Bullmmastiff owner. Our Y shaped dog harness is super strong and comfortable!
Check how this Y Shaped Harness looks on Bullmastiff
Pictures from our Customers
View a larger image by clicking on the pictures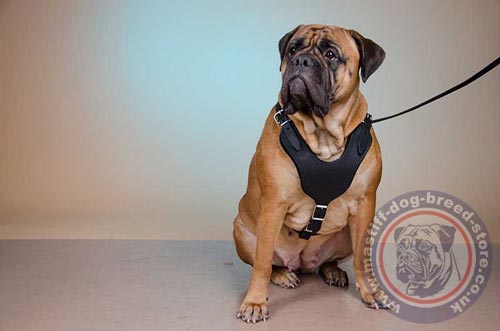 Big Dog Harness with Padded, Y Shaped Chest for Bullmastiff Comfort
View a larger image by clicking on the pictures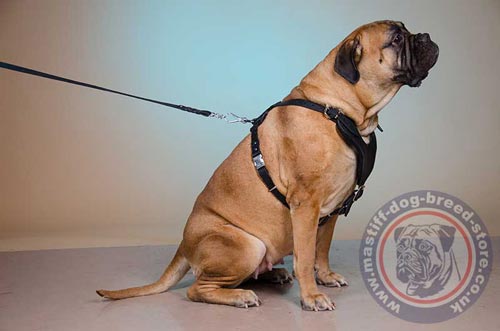 Big Leather Dog Harness for a Reliable Control