Spiked Dog Harness for Bullmastiff Gorgeous Look
Spiked dog harness is a great choice to underline strength and brave look of a big dog like Bullmastiff. Bullmastiff dog harness with spikes makes your dog look like a gladiator and at the same time feel comfortable under your control.
Our leather dog harnesses are handmade of top quality materials and intended especially for big mastiff breeds. You will feel the quality and reliability in use. Gorgeous spiked dog harness for Bullmastiff is made of thick leather and is strong and soft at the same time. The shape of a front plate repeats the lines of dog body form and does not interfere in active walking. Soft padding of felt in intended to prevent rubbing of dog skin and to safe dog fur healthy and nice.
Wide leather straps comfortably and reliably embrace dog chest and keep it under your control without tightening. It is much safer for a dog than a dog collar. It will never choke dog's neck as a collar may.
View a larger image by clicking on the pictures
The benefits of this Bullmastiff Dog Harness:

V-neck comfortable shape
felt padded plates
gorgeous spiked design
genuine full grain leather of top quality
regulated leather straps
quick-release buckle
handmade
welded D-ring for a dog lead

Intended use of this Spiked Dog Harness:

Bullmastiff dog breed
medium and big dogs
mastiff breeds walking
control strong dogs

Available sizes:

medium to extra large size

Available colors:

black
brown
tan (natural)
Spiked dog harness will underline the bravery and power of your Bullmastiff!
Check how this Spiked Dog Harness for dogs looks on Bullmastiff
Pictures from our Customers
View a larger image by clicking on the pictures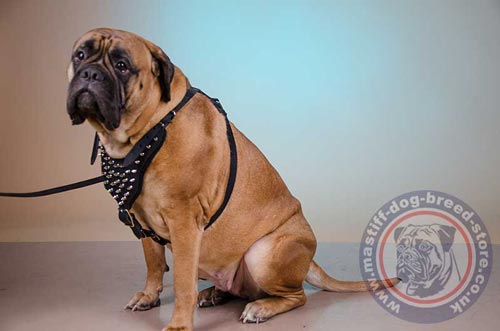 Comfortable and Reliable, Big Dog Harness for Bullmastiff
View a larger image by clicking on the pictures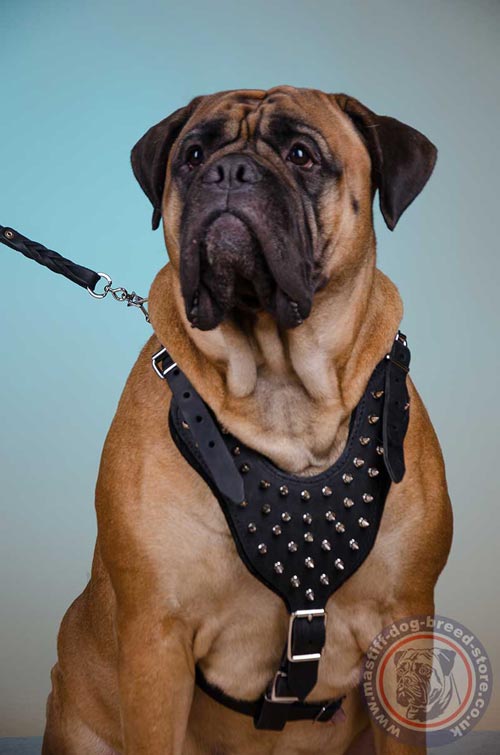 Gorgeous Leather Dog Harness with Spikes for Big Dogs
Choose gorgeous design for your beloved pet and walk your dog in comfort.