Studded Harness for Dogs to Control a Powerful Bullmastiff with Comfort and Style
Studded harness for dogs walking will add elegance to the look of your dog. The metal pyramids are plated with chrome that makes them rustproof and shiny.
It is a top quality dog harness handmade of genuine leather. It is thick and strong for a big dog like Bullmastiff.
This studded dog harness is adjusted by chrome-plated buckles and is fixed with reliable rivets.
There is a soft lining of felt inside the chest and back plates. It prevents rubbing in active daily walking.
View a larger image by clicking on the pictures
The benefits of this Studded Dog Harness:

V-shaped chest plate
soft felt padded
studded with glossy pyramids
all metal details are chrome-plated
quick release buckle
regulated straps with buckles
genuine leather, full grain
the best price from the producer directly
handmade

Intended use of this Bullmastiff Harness:

Bullmastiff walking
mastiff breeds
medium and big dogs

Studded Dog Harness sizes:

Available colors:

black
brown
tan (natural)
This studded harness for dogs walking will help you to control your dog.
Check how this studded dog harness looks on Bullmastiff
Pictures from our Customers
View a larger image by clicking on the pictures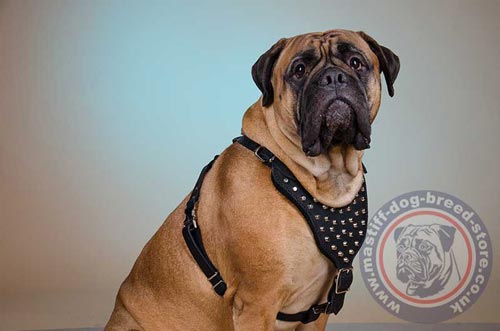 Studded Dog Harness for Bullmastiff Gorgeous Look
Choose the combination of style and comfort embodied in this studded dog harness!