Bull Mastiff Collar UK Bestseller
This Bull Mastiff collar is one of the favorite dog accessories of our customers. Choose a quality leather dog collar for your Bull mastiff. It is made of thick genuine leather. It is well done and is strong and reliable for a big mastiff dog. The best dog collar design is handmade by our experienced craftsmen for long term and reliable use in control over your strong dog.
Classic design of a leather dog collar with buckle is completed with elegant brass plates. They are reliably riveted. There are no stitches, so there is nothing to come off and wear out. Our dog collars are intended for reliable control over big dogs. This Bull Mastiff collar has a strong buckle and welded D ring. With this bestseller Bull Mastiff collar your strong dog is under reliable control. Make your dog look smart and controlled with the best dog collar design.
The major characteristics of this Quality Dog Collar:

safe, top quality materials
full-grain, natural leather
extra strong, thick and soft
well-oiled
rustproof and nice-looking brass hardware
securely riveted fittings
original design with plates

Intended use of this Bull Mastiff Collar:

Bull Mastiff daily style and comfort in walking
control over a big mastiff dog
for medium and big dogs, mastiff puppies and big mastiff dogs

Available sizes:

1 1/2 inch (40 mm) wide
weight - 0.7 lbs (320 g)

Available colors:
Sizes of this Bull Mastiff collar:

Please, take into account:
This is a classic dog collar with buckle and 5 holes.
The distance between holes is 1 in (2.5 cm).
The size of dog collar is its size at the central hole.
For example: if you choose a collar size 20 in (50 cm), you will get a dog collar with size 20 in (50 cm) at the central hole and there will be also holes for size 18, 19 and 21, 22 in by the sides of the central one for a case your dog grows or loses weight.
Those are handmade dog collars and some sizes will differ a little (not in significant way).
Check how our Favorite Bull Mastiff Collar looks on a dog
Pictures from Customers
Click on the Bull Mastiff pictures to enlarge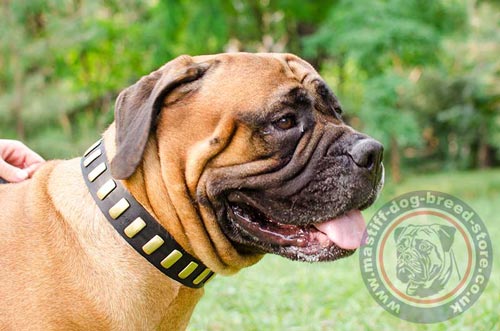 Designer Dog Collar for Bull Mastiff Style, Control and Comfort
Click on the Bull Mastiff pictures to enlarge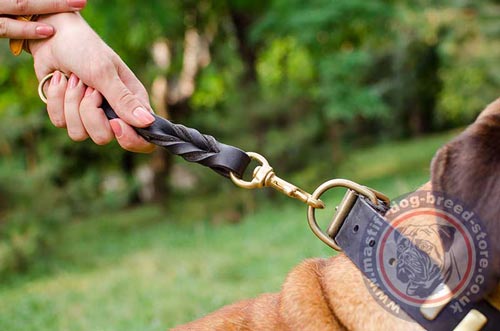 Incredibly Strong Dog Collar for a Big Mastiff Dog
If you like this braided dog lead mediator you see on the images, you are welcome to order it here.