Bullmastiff Collar for Big Dogs Elegant Look and Style, Control and Comfort
Make your dog look fancy daily. This elegant leather dog collar with brass studs is a very reliable and comfortable daily dog accessory. It is a strong and light dog collar, so it will suit both Bullmastiff puppies and big mastiff dogs.
Click to enlarge the image of this Bullmastiff collar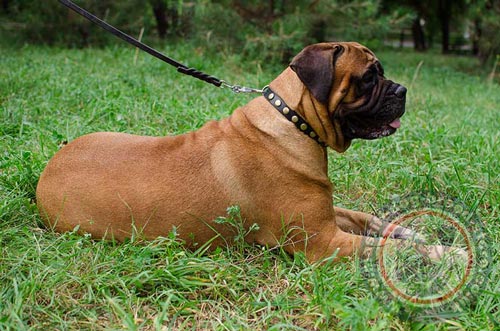 Light and Strong, Elegant Leather Dog Collar
What may be better for daily dog walking that a classic dog collar with buckle?! Choose handmade dog collar of top quality. Our experienced craftsmen try their best to make every detail of this Bullmatiff collar perfect.
View a larger image by clicking on the pictures
Key features of this Bullmastiff Collar:

premium quality leather
strong and soft
3.5 mm thick leather
a welded D-ring and a classic buckle
rustproof hardware
reliably riveted medals
smooth edges

Intended use of the Leather Dog Collar:

Bullmastiff collar for daily use
dog training and walking
handling of middle and large dogs with comfort and style

Available sizes:

1 inch (25 mm) wide
weight 0.26 lbs (120 gr)

Available colors:
How to choose a size of a leather dog collar with buckle:

Please, take into account:
This is a classic dog collar with buckle and 5 holes.
The distance between holes is 1 in (2.5 cm).
The size of dog collar is its size at the central hole.
For example: if you choose a collar size 20 in (50 cm), you will get a dog collar with size 20 in (50 cm) at the central hole and there will be also holes for size 18, 19 and 21, 22 in by the sides of the central one for a case your dog grows or loses weight.
Those are handmade dog collars and some sizes will differ a little (not in significant way).