Antique Dog Collar for Bull Mastiff with Dotted Brass Studs
If you are a person with a fine taste and style probably you wish to make your four-legged companion look smart as well. Underline gorgeous look of your Bull Mastiff with this antique dog collar style. It is decorated with vintage brass studs with dotted surface. They make a leather dog collar look like a necklace.
Click to enlarge the image of this Bull Mastiff collar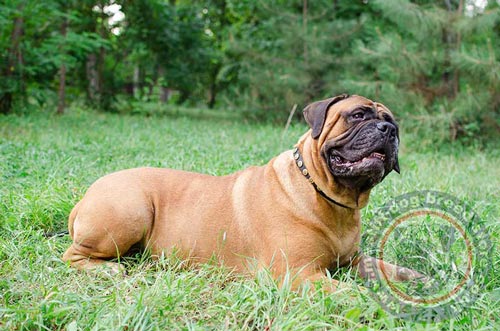 Elegant Studded Antique Dog Collar for Bull Mastiff Gorgeous Style
All brass studs set very reliably with inner rivets. There are no stitches. This Bull Mastiff collar is accounted for a strong dog. That's why our designers tried their best to make all its details strong and durable. In spite of its 1 in width it is very strong. the leather is 3.5 mm thick. Its edges are round and smooth.
Click to enlarge the image of this Bull Mastiff collar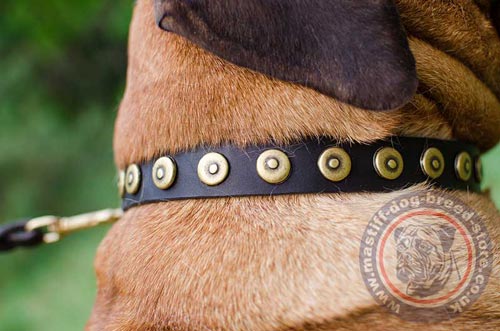 Reliably Riveted Dotted Studs of Brass
Bull Mastiff collar is adjusted by a classic buckle. It has 5 holes for size regulation. The collar size is its length at the central hole. You will have more 4 holes for re-adjusting.
The tip of this leather dog collar is fixed by a square ring. It will not hand out or interfere your dog.
Antique Dog Collar for Bull Mastiff Fashion and Comfort
Control Your Bull Mastiff with a Quality Leather Dog Collar with Studs
The key characteristics of this Antique Dog Collar:

soft and strong
light weight
durable, thick leather
rustproof studs and hardware
studded design
hand made
classic buckle and welded D ring

Intended use of this Bull Mastiff Collar:

Bull Mastiff walking
dog walking of middle and big dogs
obedience/off leash/basic dog training

Available sizes:

1 inch (25 mm) wide
0.41 lbs (190 gr) weight

Available colors:

black
brown
tan (natural leather color)
Measure your Mastiff for a good fit Necklace Dog Collar:

Please, take into account:
This is a classic dog collar with buckle and 5 holes.
The distance between holes is 1 in (2.5 cm).
The size of dog collar is its size at the central hole.
For example: if you choose a collar size 20 in (50 cm), you will get a dog collar with size 20 in (50 cm) at the central hole and there will be also holes for size 18, 19 and 21, 22 in by the sides of the central one for a case your dog grows or loses weight.
Those are handmade dog collars and some sizes will differ a little (not in significant way).
Note, that a genuine leather dog collar will serve you better and longer if stored and cared properly. Learn how to care for leather items and use the dog collar necklace with pleasure!