Spiked Dog Collar Design For Bullmastiff, Strong Leather Dog Collar
Make your Bullmastiff look gorgeous with a designer dog collar. It is high quality spiked dog collar for beloved dogs. It is made of strong, thick leather especially for a big dog like Bullmastiff. Glossy spikes perfectly underline brave temperament of Bullmastiff dog breed.
Click on the picture to see a bigger image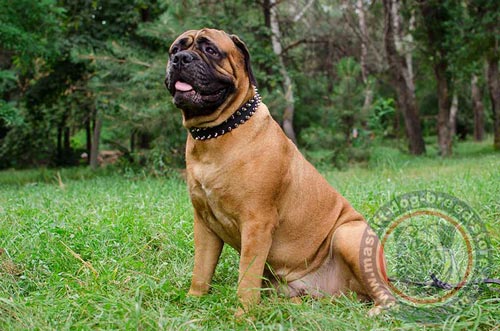 2-Row Spiked Dog Collar for Bullmastiff
2 rows of spikes are handset and reliably riveted. The leather dog collar is carefully oiled and well-done to each detail.
It is a wide leather dog collar, that will make your dog feel comfortable in walking. It is a perfect dog walking collar to control your dog. Spiked dog collar has a classic buckle. It is easy and reliable in use. And of course there is a D ring. It is solid, welded and rustproof, as well as all the metal elements of this Bullmastiff collar.
Choose top quality dog accessory and enjoy fashionable look of your dog and comfort in use, control and walking your Bullmastiff.
The main features of the Spiked Dog Collar:

top quality, well-done, genuine leather
strong, durable and soft
non-toxic
easy in use
chromium-plated steel hardware
handset spikes, securely fixed with rivets
elegant design
strong buckle and ring

Intended use of the Spiked Dog Collar:

elegant look of a strong dog
to underline the original breed of your Bullmastiff
handling your dog in daily dog walking

Available sizes:

Available colors:
Spiked Dog Collar has the following size peculiarities:

Please be advised that:
Leather spiked dog collar has 5 holes for adjusting.
The distance between each 2 holes is 1 in (25 mm).
The neck size of your dog will correspond to the central hole of the ordered collar.
For example: your dogs neck size is 20 inches (50 cm). Collar will fit on central hole at 20 inches (50 cm).
There will be 2 smaller size holes - 18 inch (45 cm) and 19 inch (47.5 cm).
There will be 2 bigger size holes - 21 inch (52.5 cm) and 22 inch (55 cm).
There will also be tip of the collar after last hole about 2 inch long (5 cm).
Those are handcrafted collars and some sizes will differ a little (not in significant way).
We create our dog accessories with attention to each detail to make them serve you a good and long service. All the products have the International Quality Certificate.