Handmade Collars for Large Dogs Like Bullmastiff
Handmade collars for large dogs are designed for walking of mastiff breeds like Bullmastiff. Handmade, genuine leather dog collars are reliable tools to manage Bullmastiff temperament and strength. Handmade collars with spikes perfectly underline style of your gorgeous Bullmastiff. Thick, strong leather is a perfect material for daily use. Handmade leather dog collar is soft, comfortable and absolutely safe for your dog.
View a larger image by clicking at the pictures
The key features of these Handmade Collars:

well-done, premium quality leather
handcrafted
rustproof hardware
glossy, polished spikes
solid D-ring for dog lead

Intended use of these Bullmastiff Collars for Large Dogs:

Bullmastiff size and strength
mastiff breeds and other big dogs walking and training
to control your dog in walking and public

Available sizes:

Available colors:
Bullmastiff collar size:

How to choose a Bullmastiff collar size:
The collar is produced to fit the neck size of your dog at the central hole (C).
There are 5 holes and distance between each 2 holes is 1 inch (25 mm).
For example: your dogs neck size is 20 inches (50 cm). Collar will fit on central hole at 20 inches (50 cm).
There will be 2 smaller size holes - 18 inch (45 cm) and 19 inch (47.5 cm).
There will be 2 bigger size holes - 21 inch (52.5 cm) and 22 inch (55 cm).
There will also be tip of the collar after last hole about 2 inch long (5 cm).
Those are handcrafted collars and some sizes will differ a little (not in significant way).
Handmade collars with spiked design are crafted with attention to each sing;e detail. ALl the elements are smooth and safe. The leather edges are round and safe for dog skin anf fur. Spiked are round-coned and rustproof. They are reliably handset by professionals. Reliably fixed and assembled handmade collars for large dogs like Bullmastiff are quality dog accessories for daily use with comfort and style.
Check how our handmade collars will look on your Bullmastiff
Pictures from Customers
View a larger image by clicking at the pictures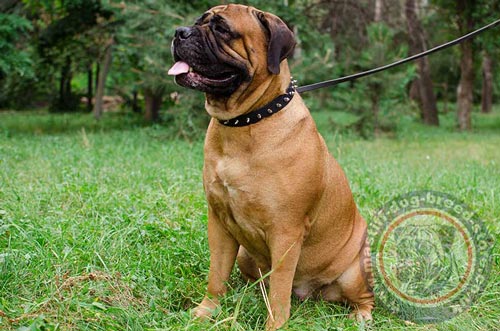 Walk Your Bullmastiff in Style!