Bullmastiff Collars with Studs for Dog Fashion and Control
Bullmastiff collars with studs is a great choice for your strong dogs. First of all we care of comfort and safety of our mastiff supplies. This dog studded collar is made of thick leather. It is well oiled and has smooth edges. Full grain leather dog collar is a reliable dog accessory for your big Bullmastiff. It is durable for huge dog strength and keeps your dog controlled in walking and public. Square studs have chrome plating, that protects them from rust. All details are securely riveted. There are no stitches, so there is nothign to come off. Strong classic buckle design makes it easy and comfy in use. Bullmastiff collars with studs are functional, quality and fashionable.
The key characteristics of the Bullmastiff Collars:

handmade
genuine leather, full grain, thick and strong
rustproof chrome-plated metal elements
strong, reliable, easy buckle and cast D-ring
3 rows of square studs
reliable fixation with secure rivets
fashionable, strong and reliable

Intended use of the Bullmastiff Collars:

dogs of middle and large size
Bullmastiff puppies and big dogs
basic dog training
dog walking
control your Bullmastiff in public

Available sizes:

1 1/2 inch (40 mm) wide
0.83 lbs weight

Available colors:
Measure your dog for a dog collar with buckle:

Bullmastiff collars size:
This leather dog collar with buckle has 5 holes for a buckle adjusting.
The size of your dog you choose while ordering is a dog collar size at its cetral hole.
4 extra holes serve for re-adjusting the collar while your dog is growing or losing weight: 2 holes right and 2 holes left.
There will also be tip of the collar after last hole about 2 inch long (5 cm). It is fixed by a square ring and does not hang out.
These handmade dog collars may differ a little in size, but not in significant way.
Dog studded collar is smooth and soft inside and stylish looking. Square studs does not interfere in dog training. Thus, this leather dog collar may be used for Bullmastiff training and walking.
Check how these Bullmastiff Collars look on the dogs
Pictures from our customers
Click on the picture to see a bigger image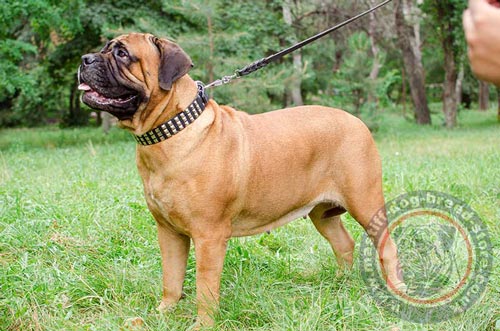 Bullmastiff Collars for Nice Look, Comfort and Reliable Control
Click on the picture to see a bigger image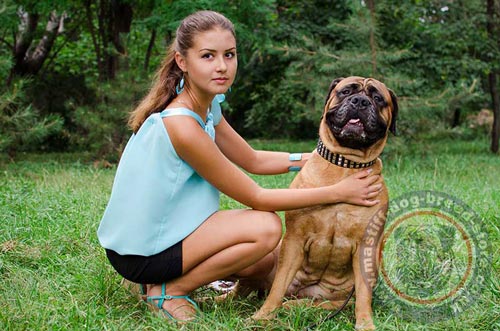 Dog Studded Collar for Your Beloved Bully