Cane Corso Muzzle for Big Mastiff Dog Breeds
Cane Corso muzzle is made of strong wire basket for a big mastiff dog. It is a special wire dog muzzle with an individual shape for Cane Corso dog breed snout shape and size. Our basket dog muzzles are carefully designed in several shapes and sizes to fit each dog maximum comfortably and safely. That's why it is very important for our specialists to get all the sizes of a dog snout. Measure your dog according to the instruction below and fill in all the options required.
Cane Corso dog muzzle is perfectly ventilated.
The basket does not rub dog nose. It is padded with soft felt and leather lining at the top snout area.
Strong dog muzzle for Cane Corso mastiff is reliably fixed with natural leather wide straps with a buckle. You may choose a classic buckle or a quick-release buckle option.
Click on the Cane Corso muzzle images to view them closer
The muzzle in your order may vary in shape and size from the picture, as it depends on individual sizes of your dog filled in your order.
Why do we recommend this Cane Corso Muzzle:

individual basket shape and size is chosen according to the breed and size of your dog
strong, rustproof, smooth polished, cast wire basket
allows a dog breathing free
a dog pants and drinks muzzled
reliably fixed with natural leather belts
regulated straps with a buckle
quick-release buckle option available
prevents biting

This Cane Corso Muzzle is intended for:

Cane Corso dog breed and other Mastiffs and alike dog breeds
dog training
dog behavior correction
dog socialization
vet visiting
dog walking in public

Sizes available:

over 20 sizes available (the size depends upon the dog breed, gender and age)

Available colors:

black leather strap and lining
Click on the Cane Corso muzzle image to view it closer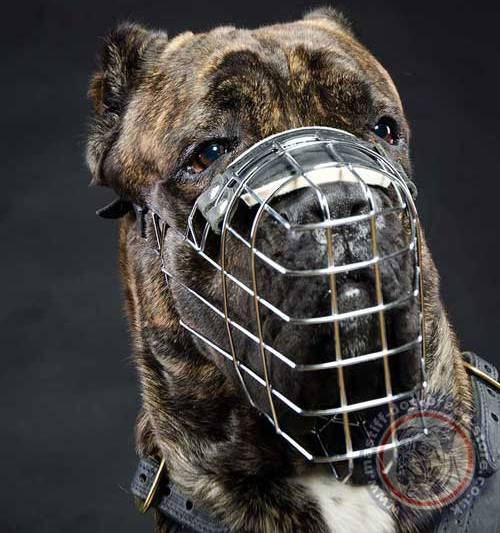 Choose Ventilated, Soft Padded Dog Muzzle for Cane Corso Mastiff
Click on the Cane Corso muzzle image to view it closer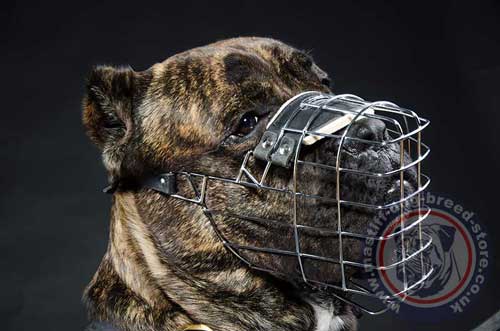 Special Design of a Wire Dog Muzzle for Cane Corso Dog Breed
Important! Measure dog snout sizes in inches:
Length: measured from the nose tip to the line of eyes
Circumference: measure around the dog snout 1 in below the line of eyes
Eye Line: measured from the line of eyes to the line right below the ears
Neck Circumference: measured around the neck behind the ears
Width: measure the width of dog snout in the widest point
Height: measure snout height. Dog mouth should be a little open
Click here for the instructions how to measure a dog for a muzzle