Soft Dog Collar with Felt Lining
Soft dog collar is intended specially for your dog's comfort during dog walking and training. Our specialists made this Cane Corso dog collar with a felt lining, which protects pet's neck from rubbing. This model is made of thick high quality leather, and equipped with nickel plated hardware. Soft dog collar also has a ring for attaching a dog lead. Cane Corso dog collar 1 inch wide is presented in three colors, and variety of sizes from 16 to 36 inch length.
Leather Soft Dog Collar For Italian Mastiff Everyday Wearing
Cane Corso Dog Collar of Natural Leather with Felt Lining
The key characteristics of this Soft Dog Collar:

felt lining
natural leather
nickel plated hardware
metal D-ring for a dog lead
durable buckle
handmade for dog's comfort

Intended use of this Cane Corso Dog Collar:

comfortable everyday use
Cane Corso and smaller dog breeds
dog walking, training, daily activities

Available sizes:

16-36 neck size
1 inch (25 mm) wide

Available colors:

black
brown
tan (natural)
Choose a proper size of this comfortable soft dog collar for your Cane Corso:

Note:
The central hole of the buckle collar is equal to your dog's neck size.
There are five holes on our collars. There is 1 inch distance between every two holes (25 mm).
For instance: if the measurements of the dog's neck are 18 in (45 cm), the suitable size of the dog collar is 18 in, then it will perfectly fit on the central hole.
There are two holes to make a collar smaller in size 16 in (40.5 cm) and 17 in (43 cm).
There are also two holes to make a collar larger in size 19 in (47.5 cm) and 20 in (50 cm).
After the last hole of the collar there is a tip which length is around 4 in (10 cm).
Our collars are hand-made, that's why sometimes sizes are slightly different (that's very insignificant).
Check how Soft Dog Collar looks on Cane Corso dogs
Pictures from Customers
Click on the Cane Corso photos for a closer view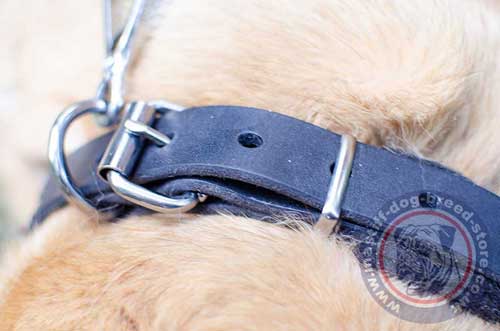 Reliable and Comfortable Soft Dog Collar for Dog Walking
We always think of your dog's comfort, as it's very important for daily activities. With our soft dog collar, your Cane Corso will feel great and look stylish.