Cord Dog Leash with Natural Leather Cover
Mastiff leash is to be strong enough to handle a powerful and large dog. This cord dog leash will help you to make your dog obedient and to train it efficiently under your control.
Cord dog leash has a nylon inner strap and soft natural leather cover, round rolded and reliably stitched. These materials make this mastiff leash strong but soft for your hands.
Click on a cord dog leash image to view it closer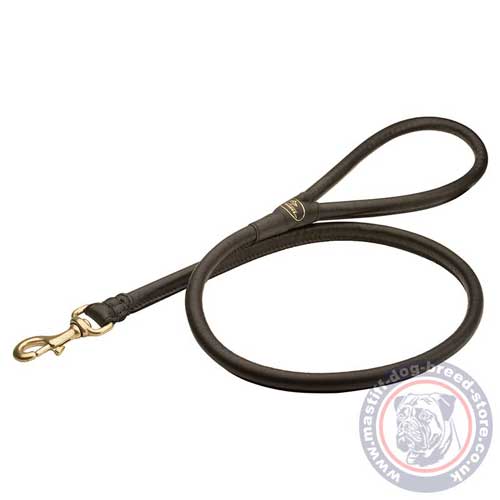 Soft and Strong Mastiff Leash
The features of this Cord Dog Leash:

Multitask
Optimal width and length for comfortable dog walking and training
Easy to take on/off a dog collar or harness with an easy and strong snap hook
Inner nylon cord
Genuine leather

How to use this Cord Dog Leash:

Mastiff walking
Mastiff training
For medium and large dogs
Obedience training
Behavior correction

Sizes available:

2 ft (60 cm) long
4 ft (120 cm) long
6 ft (180 cm) long
0.6 in (1.4 cm) wide

Available colors:
Advice: This cord dog leash is made of quality genuine leather. To keep its look and durability, please, follow the simple rules:
Minimize its contacts with water and open sources of heat (do not leave it at heater and straight sunlight for a long time).
Process a leather surface with water repellent and leather conditioner to keep it flexible and soft for a long time.