Dogue De Bordeaux Collars for Large Dogs Training, Sport, Service and Control
Dogue De Bordeaux dog breed is a strong and big dog. To control Dogue De Bordeaux temperament you will need a strong thick dog collars. We propose handmade, 2 ply leather collars for large dogs, that will help you to manage Dogue De Bordeaux temperament.
These 2 ply thick dog collars are reliably stitched and equipped with strong, luxury brass hardware. The classic buckle is strong and reliable. Dog's neck is protected from buckle with a square padding.
Thick dog collars have cast D ring for lead and tag adjusting. The D ring is reliably stitched and additionally riveted.
The super strong design of these Dogue De Bordeaux collars are intended for dog walking, training, sport and service dogs.
View a larger image by clicking on the pictures
The key info of these Dogue De Bordeaux Collars:

2 ply thick leather
handmade
stitched with strong waxed thread
brass hardware
inner square plate protects dog fur at buckle area
strong classic buckle
regulated size
solid D ring for a dog lead

Intended use of these Dogue De Bordeaux Collars:

walking and training of meadium and large, strong dog
attack/agitation training
service dogs

Available sizes:

over 17 sizes
width 1 3/4 inch (45 mm)

Available colors:
Check how these thick dog collars look on Dogue De Bordeaux
Pictures from Customers
Click on the image to enlarge Dogue De Bordeaux pictures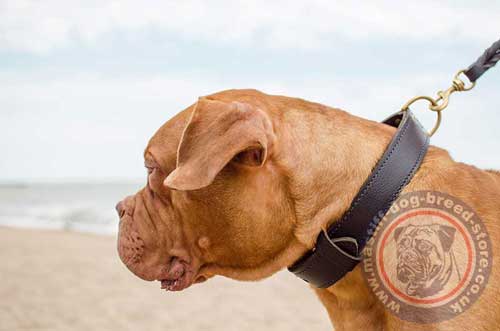 Dogue De Bordeaux Collars for Large Dogs
Click on the pictures to see a bigger image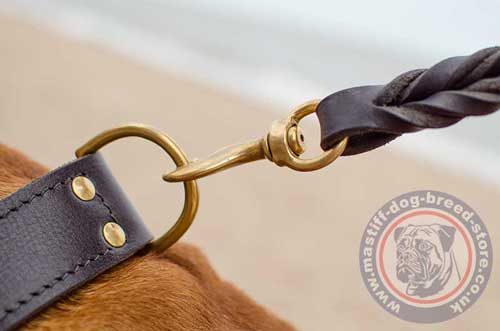 Thick Dog Collars with Strong Hardware
Dogue De Bordeaux collars size:

Please, be advised, that:
Choose neck size from the options at the top and we will make a dog collar fitting on a central hole (С at the scheme).
Each dog collar with buckle has 5 holes on the distance of 1 inch (25 mm) between each two holes.
Example: if a dog neck size is 20 inches (50 cm), a collar will have size 20 in (50 cm) on the central hole.
There will be 2 smaller size holes - 18 inch (45 cm) and 19 inch (47.5 cm).
There will be 2 bigger size holes - 21 inch (52.5 cm) and 22 inch (55 cm).
There will also be tip of the collar after last hole about 2 inch long (5 cm).
These dog collars are handcrafted and some sizes will differ a little (not in significant way). But you will always have the chance to adjust it maximum fit for your dog.
2 ply leather collar will correspond to dog's neck at the 2-3rd hole in folded position. Thus, in stretched position it will correspond dog's neck at 1st-2nd hole because of its thickness.
See more leather dog collars and matching leather leashes for your dog.