Designer Dog Collar with Old-Style Nickel Dotted Plates for Dogue De Bordeaux Puppies and Adults
Dogue De Bordeaux puppies as well as big dogs are strong creatures. Train you dog to wear a collar from the puppy age and make it an obedient member of your family. Strong dog collar is a necessary and important dog accessory for daily use. That's why we recommend a quality, reliable leather dog collar. It is a designer dog collar with classic buckle. The buckle and additional holes are easy for size regulation while your dog is growing. If you are buyin a collar for your mastiff puppy and wish it to be in use as long as possible, choose a 2 in bigger dog collar size than actual size of puppy neck at the moment. Then you will get one with its size at the first hole and there will be 4 more holes (in other words, 4 in spare length) for your dog to grow.
Designer dog collar has original vintage design with dotted nickel plates. These details are reliably riveted. All fittings are well done, rustproof and polished.
View a larger image by clicking on the pictures
Strong and Comfortable Leather Dog Collar with Buckle
Handmade Dog Collar with Vintage Plates for Mastiff Puppies and Big Mastiff Dogs
The key features of this Designer Dog Collar:

quality genuine leather
extra strong dog collars for large dogs
absolutely safe for dog's health and non-toxic
plated design for large dogs exclusive style
hand set vintage nickel-plated steel decorations
strong cast D-ring and buckle
certified quality

Intended use of this Handmade Dog Collar:

Mastiff puppies, big dogs, strong dogs

Available sizes:

1 1/2 inch (40 mm) wide
14-40 in long sizes available
0.77 lbs (350 g) weight

Available colors:
Click on the Dogue De Bordeaux pictures to enlarge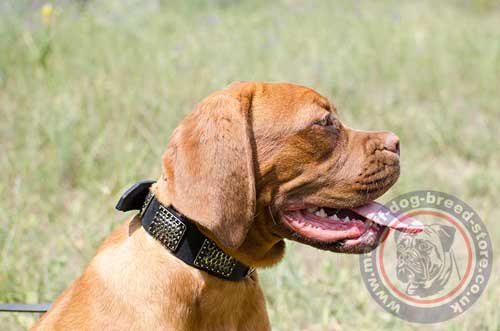 Nice Vintage Dog Collar on a Dogue De Bordeaux Puppy
Click on the Dogue De Bordeaux pictures to enlarge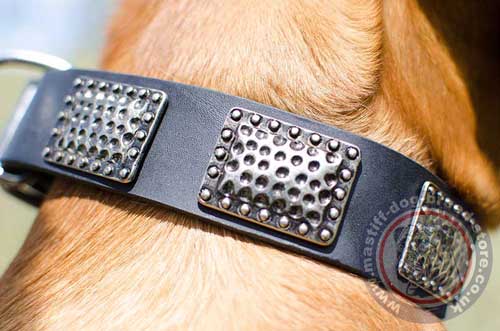 Vintage Designer Dog Collar of Thick Genuine Leather
How to define a Mastiff dog collar size:

Please, be advised, that:
Choose neck size from the options at the top and we will make a dog collar fitting on a central hole (С at the scheme).
Each dog collar with buckle has 5 holes on the distance of 1 inch (25 mm) between each two holes.
Example: if a dog neck size is 20 inches (50 cm), a collar will have size 20 in (50 cm) on the central hole.
There will be 2 smaller size holes - 18 inch (45 cm) and 19 inch (47.5 cm).
There will be 2 bigger size holes - 21 inch (52.5 cm) and 22 inch (55 cm).
There will also be tip of the collar after last hole about 2 inch long (5 cm).
These dog collars are handcrafted and some sizes will differ a little (not in significant way). But you will always have the chance to adjust it maximum fit for your dog.