Strong Dog Collar with Quick Release Buckle, Light and Durable Nylon Dog Collar for Dogue De Bordeaux Mastiff
Strong nylon dog collar has two important characteristics, that make it a perfect dog accessory for a big mastiff like Dogue De Bordeaux. First of all, this mastiff dog collar is made of strong nylon. Nylon has such features as light weight, durability, strength and simple storage.
Light nylon dog collar with simple design will not bother your dog or interfere its walking and training.
Dogue De Bordeaux collar with quick release is reliable and easy in use. The buckle is rusproof and accounted for huge loadings of a strong dog of medium or large size.
Click to enlarge the photo of this strong dog collar with quick release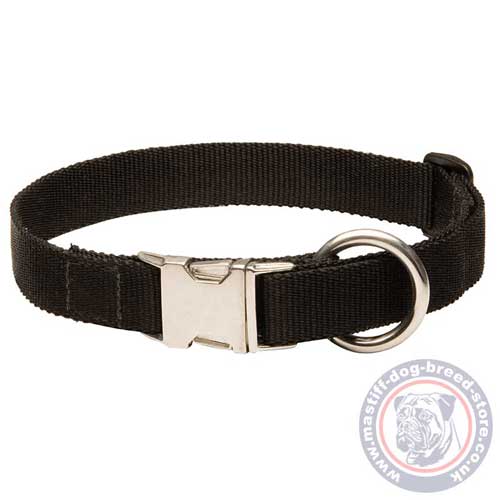 Strong Nylon Dog Collar with Quick Release
Info of this nylon dog collar:

2-ply nylon
soft, light and strong
durable for a long time of daily wear
rustproof, durable quick release buckle
welded O-ring for a dog lead
for any weather

Use this light and strong dog collar for:

small, medium and large dog size
Dogue De Bordeaux puppies and full-grown dogs
mastiff breeds
daily dog walking
Dogue De Bordeaux training

Sizes available:

1 in (25 mm) wide
16-26 in (40-68 cm) long
20-30 in (50-78 cm) long

Available colors:
This simply comfortable dog nylon collar made of strong nylon is a perfect dog gear for daily use.
Look at the photos of this dog nylon collar with quick release on a French Bordeaux Mastiff
Click to enlarge Dogue De Bordeaux pictures