Strong Dog Collars Made of Nylon with Round Plates
Nylon dog collars are strong and durable dog accessories for powerful dogs. But we wish your dogs to look also nice and elegant even at daily walking. So we created a durable and elegant dog collars with silver-like plates. Nylon strap creates a strong tool to control your large Dogue De Bordeaux or other mastiff breeds. Silver-like metal plates make your dog smart-looking and show your fine taste.
Strong dog collars are easy regulated and adjusted. Dogue De Bordeaux collars have a strong buckle and 5 holes for its fixation.
Larger photos are available after click at the images
The key info of these Strong Dog Collars:

safe materials
light and sturdy nylon
used at any weather conditions
rustproof hardware
securely riveted plates
easy regulated collar size
solid D-ring for dog lead

Intended use of these Buckle Dog Collars:

smart look of your mastiff
daily dog walking
control over a big dog
Dogue De Bordeaux training

Available sizes:

choose the size at the top of the page
1.5 in (40 mm) wide

Available colors:
Larger photos are available after click at the images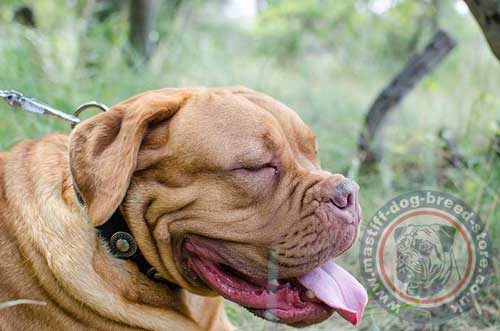 Comfortable and Elegant French Mastiff Collars for Big Dogs
Larger photos are available after click at the images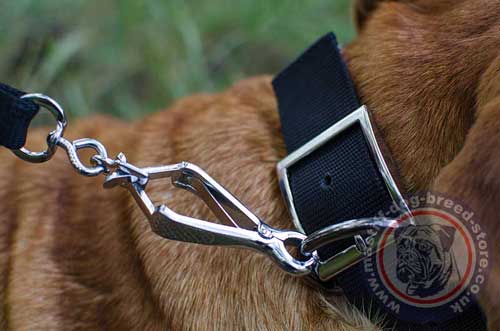 Strong Buckle Dog Collars to Control Mastiff Breeds
How to choose the size of a buckle dog collar:

Please be advised that:
For buckle collar when you specify neck size we will make collar fit on central hole.
There will be total of 5 holes and distance between each 2 holes is 1 inch (25 mm).
For example: your dogs neck size is 20 inches (50 cm). Collar will fit on central hole at 20 inches (50 cm).
There will be 2 smaller size holes - 18 inch (45 cm) and 19 inch (47.5 cm).
There will be 2 bigger size holes - 21 inch (52.5 cm) and 22 inch (55 cm).
There will also be tip of the collar after last hole about 2 inch long (5 cm).
Those are handcrafted collars and some sizes will differ a little (not in significant way).
Nylon dog collars for big dogs are perfect choice for long term reliable use, even if used daily. Nylon and rustproof hardware are easy cleaned and stored. Nylon collars for dogs are perfect for use in any weather. Nylon does not stretch or lose its strength or form in wet conditions. The plates and hardware will not rust for ages! Make your dog look smart daily!