Big French Mastiff Collar with Chromed Pyramids
Pyramid studded dog collar creates a great look and style of your Dogue De Bordeaux. Strong dog collar is an indispensible dog accessory for a big French Mastiff. With a nylon dog collar you will reliably control your strong dog.
Nylon is a strong and durable material. It will serve you for a long time of regular use. That's why we recommend it for daily dog walking and training in any weather.
Strong buckle and welded ring are accounted for a huge power of a Dogue De Bordeaux.
Click and enlarge the image of this big french mastiff collar
Information about this Big French Mastiff Collar:

awsome coned design
chrome-plated fittings
2 ply nylon collar
reliable stitching and riveted fixation
strong metal buckle and ring

Use this Studded Dog Collar for:

big French Mastiff
dog breeds of medium and big size
dog walkign and training
to control your dog in any weather

Sizes of this French Mastiff Collar:

1 1/2 inch (40 mm) wide
weight - 0.62 lb (280 gr)
for dog's neck 14-40 in (35-100 cm)

Color of this Pyramid Studded Dog Collar:
A strong dog collar with metal pyramids looks great on a Big French Mastiff
Look at the pictures from our customers
Click at the French Mastiff pictures to enlarge them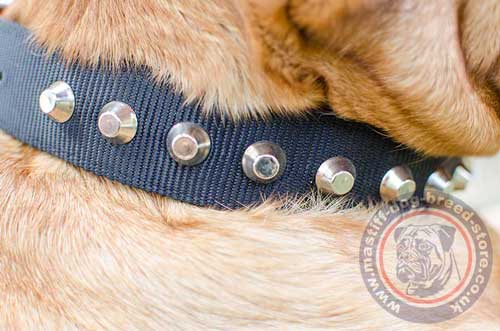 Pyramid Studded Dog Collars for Elegant Look of Your Dog in Walking
Click at the French Mastiff pictures to enlarge them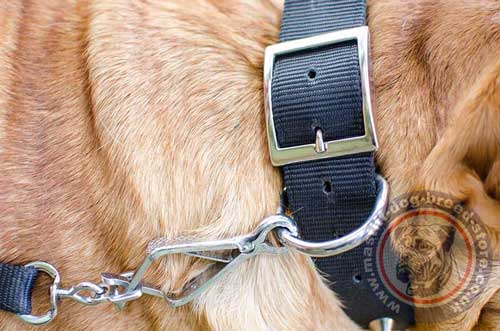 Strong Nylon Dog Collars with Buckle
Big French Mastiff collar has the following size:

Size of the nylon dog collars for mastiff:
There are 5 holes for buckle adjustment.
The distance between the holes is 1 in (2.5 cm).
The collar size corresponds to the neck size of your dog at the central hole (C).
The 2 additional holes by each side serve to regulate the size if your dog grows or loses weight.
Choose reliable and beautiful dog collars with cones, that combine strength, comfort and style.