Soft Padded Dog Collar - Light and Strong for Dogue De Bordeaux Puppies
If you care of comfort and safety of your dear four-legged friend, this simple and smart design is exactly what you wish. Creating this soft dog collar, first of all our specialists tried to combine strength, simplisity, reliability and comfort. And here we have a soft padded leather dog collar with felt lining. 1 in wide leather dog collar perfectly fits Dogue De Bordeaux puppies as well as big, adult mastiffs. 1 in width makes it light and comfortable for dog walking and training. There are no excessive details, that might bother your puppy in training! Soft felt prevents rubbing. It is very important for active walkign of your cheerful puppy and training of a strong dog. Soft felt protects dog fur and skin on neck even when dog suddenly makes a sharp pull on a lead. Simple and reliable design is the best choice for Dogue De Bordeaux puppies. Train your dog to wear a collar starting with a super comfortable dog accessory and make your dog get used to quality!
Click on the pictures to see bigger image
The key features of this Padded Dog Collar:

full grain, natural leather
soft felt lining
reliably stitched
easily adjustable
rust resistant hardware
chrome-plated hardware

Intended use of this Simple Dog Collar:

Dogue De Bordeaux puppies
big mastiff dogs
dog walking
dog training
obedience/off leash training

Available sizes:

Available colors:
Check how this Padded Leather Dog Collar looks on Dogue De Bordeaux Mastiff puppy
Pictures from Customers
Click on the picture to see a bigger image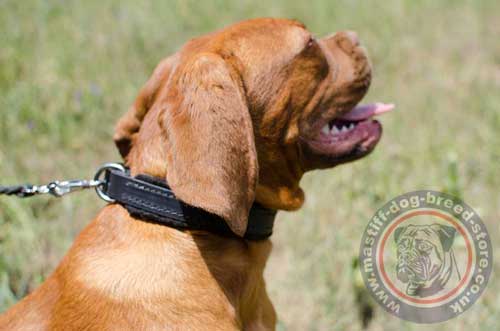 Young Dogue De Bordeaux Puppy with a Padded Leather Dog Collar 1 in Wide
1 in wide dog collar is strong and light for mastiff puppy. Thus, it is strong enough for a giant mastiff as well. Padded leather dog collar is thick and well-done. Strong fittings are rustproof and reliable to manage Dogue De Bordeaux temperament and strength.
Click on the picture to see a bigger image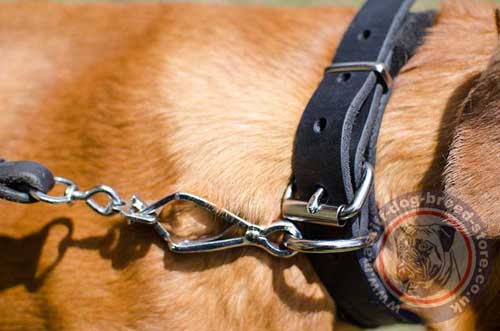 Comfortable, Simple Dog Collar Design with a Classic Buckle and a Solid D Ring
Soft padded dog collar size:

Please, be advised, that:
For buckle collar when you specify neck size we will make collar fit on central hole.
There will be total of 5 holes and distance between each 2 holes is 1 inch (25 mm).
For example: your dogs neck size is 20 inches (50 cm). Collar will fit on central hole at 20 inches (50 cm).
There will be 2 smaller size holes - 18 inch (45 cm) and 19 inch (47.5 cm).
There will be 2 bigger size holes - 21 inch (52.5 cm) and 22 inch (55 cm).
There will also be tip of the collar after last hole about 2 inch long (5 cm).
Those are handcrafted collars and some sizes will differ a little (not in significant way).
2 ply leather collars and padded leather collars are 1 inch bigger to make sure, that it will fit your dog.
Don't forget to take a proper care of leather material to prolong the time of its service.