Spiked Leather Dog Harness for Big Dogs Gorgeous Look, Big Dogue De Bordeaux Mastiff Size
Spiked leather dog harness is a perfect dog accessory to make your strong dog look special and keep it under reliable control. Our company cares of comfort and strength of products especially for big and strong dog breeds like Dogue De Bordeaux Mastiff. Big Dogue De Bordeaux size implies huge power and muscular strength. Though mastiff temperament is generally calm and friendly, its giant size and strength should be reliably controlled.
This strong leather dog harness is handmade. All stitches and rivets are securely fixed to keep your giant under reliable control in walking, public, vet visiting and other daily activities.
Gorgeous spiked design will underline your fine taste and style of your beloved four-legged friend.
View a larger image by clicking on the pictures
Spiked Leather Dog Harness for a Strong, Gorgeous Mastiff
Cool Design with Chrome-Plated Spikes + Soft Felt Lining for Dog Comfort
The benefits of this Spiked Dog Harness:

V-shaped chest for dog comfort
soft felt padded front and back plates
gorgeous chrome-plated spikes
genuine leather, thick, strong and well-done
thick, strong, soft leather straps
quick-release buckle
regulated belts
solid metal D-ring for a dog lead

Intended use of this Cool Dog Harness:

Big Dogue De Bordeaux mastiff size
medium and large dogs
mastiff walking and training
control over strong and big dogs

Available sizes:

medium size
large size
extra large size

Available colors:

black
brown
tan (natural)
Spiked dog harness will underline the bravery and power of your mastiff!
Check how this spiked leather harness for dogs looks on Mastiff dog breeds
Pictures from our Customers
Click to view larger Dogue De Bordeaux pictures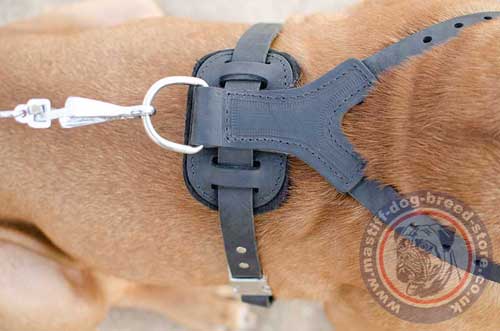 Reliably Stitched, Handmade Leather Dog Harness
Click to view larger Dogue De Bordeaux pictures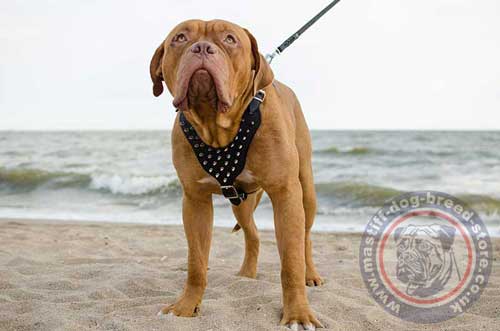 Cool Leather Dog Harness on a French Mastiff
You will admit at once simplisity and comfort in use of this leather harness for mastiff. The leather straps are easy adjusted and regulated to make your dog controlled and gorgeous-looking! Powerful mastiff will be under strong control with this spiked dog harness without any discomfort, tightening or rubbing. Choose the best for your dog!