Dogue De Bordeaux Harness for Big Dogs Comfort and Control
Padded dog harness for Dogue De Bordeaux is one of the top favorite dog accessories of mastiff breeders. This leather dog harness has a perfect design that is accounted for big and strong dogs. That's why we surely recommend it for big mastiff dogs like Dogue De Bordeaux mastiff.
This padded dog harness is very comfortable for your dog to wear. Thick felt lining makes a dog feel comfortable, prevents rubbign and allows to use this leather dog harness for active dog training and walking.
Y-shaped chest plate repeats dog body shape. It connects the belts together at the center by a solid brass buckle. The belts are strong and adjustable for perfect fit on your dog.
This strong Dogue De Bordeaux harness will help you to control your dog in walking, public, vet visiting, training and sports. Additional option is a back handle. You may choose it for a better control over a dog.
View a larger image by clicking on the pictures
The benefits of this Padded Dog Harness:

comfortable design for dog body shape
Y-shaped chest plate with soft felt lining
handmade
regulated belts
brass fittings
with/without handle option up to your choice
cast D-ring for a dog lead

Intended use of this Dogue De Bordeaux Harness:

Dogue De Bordeaux mastiff
mastiff breeds
other medium and big dogs
dog training
dog sports
dog walking

Available sizes:

medium size
large size
extra large size

Available colors:
Check how this Padded Leather Dog Harness looks on Dogue De Bordeaux Mastiff
Pictures from Customers
Click to view a larger Dogue De Bordeaux picture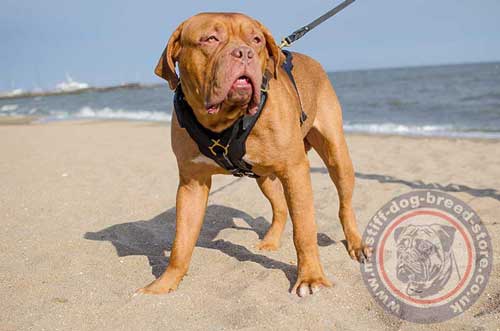 The Best Dogue De Bordeaux Harness Choice
View a larger image by clicking on the picture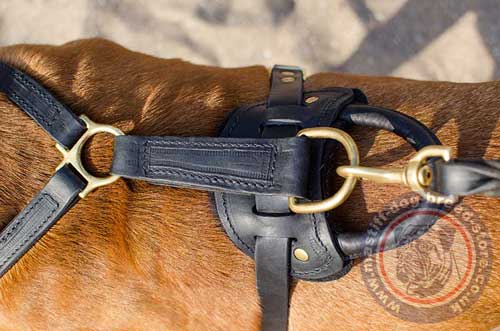 Robust, Handmade Dog Harness (Handle - Optional)
View a larger image by clicking on the picture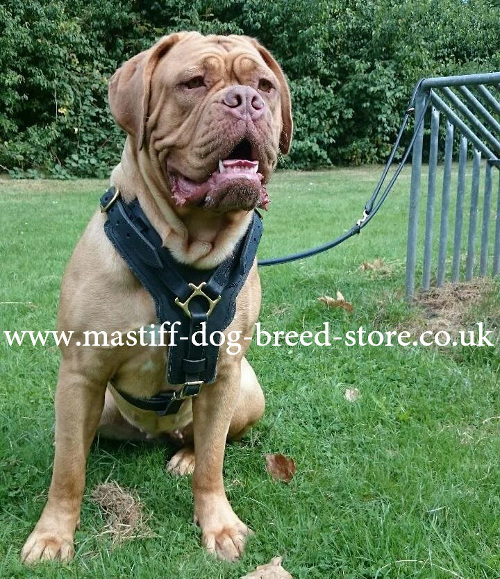 Top Quality Dog Harness on Mastiff Pepsie from Germany
Feedback from Our Customers
Published testimonials are genuine and are not edited or altered by mastiff-dog-breed-store.co.uk
Just walked my Bloodhound for the first time with the new harness. It is AWESOME! He is bad about pulling and this new harness gave me much more control, along with the crafting and padding of the harness it was much more comfortable for my dog to. I would highly recommend this harness to anyone. From : Kyle, US, 06/10/2013

Hello, dear Helen. I am delighted with the chest harness, quite a cool quality! It is very nice and I guess I will order it for my other dog soon. Your service is just great and super-fast!! Sincerely ♥ thank you for everything and best regards from Marion and Pepsie From: Germany, 09/10/2016