Royal Dog Harness for Your Gorgeous French Bordeaux Mastiff
Underline your exquisite taste with a quality dog accessory for your dear pet. Our designers have made a really gorgeous dog harness design for mastiff dogs. It will make your dog look and feel special. Top quality is guaranteed by our experienced craftsmen.
This royal dog harness is made of natural leather only. We use thick and strong leather to create a really robust dog accessory for your big Dogue De Bordeaux Mastiff. The edges are smooth, polished and waxed, all joints are reliably stitched and riveted. For maximum comfort of your dear dog this royal dog harness is padded with Nappa lining (calve leather).
White stitching, brass studs and elegant medal in the center of the chest plate make this leather dog harness look royal on a big dog.
Royal Dogue De Bordeaux harness is created first of all to provide control over your strong dog. But at the same time your dog deserves stylish dog accessory to look nice in walking, training, in public and attract admiring looks of the passers-by.
View a larger image by clicking on the pictures
The benefits of this Royal Dog Harness:

exquisite style
professionally handcrafted
reliably fixed details
well-done, smooth edges
brass fitting
quick-release buckle
regulated straps
soft calve lining

Intended use of this Studded Dog Harness:

gorgeous look of your pet
dog comfort in daily walking and obedience training
to control a dog of medium and large size
for mastiff dog, medium and large
mastiff walking
mastiff training

Available sizes:

medium size
large size
extra large size

Available colors:
Choose luxury handmade leather dog harness to underline the original breed of your mastiff!
Check how this studded leather dog harness looks on French Bordeaux Mastiff
Pictures from our Customers
View a larger image by clicking on the pictures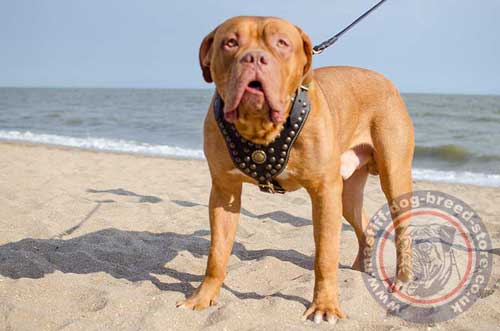 Amazing Style for Dogue De Bordeaux
View a larger image by clicking on the pictures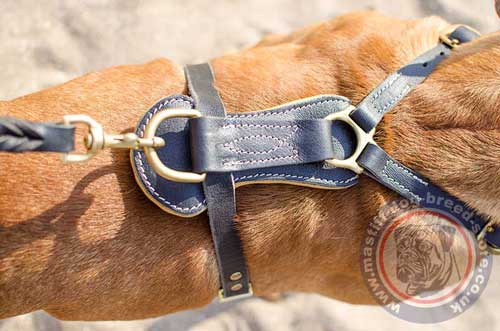 Elegant, Handmade, Soft Nappa Padded Dog Harness
Pamper your pet! Choose the best quality, royal dog harness for gorgeous look and supreme comfort of your doggie!