Adjustable Dog Collars with Quick Release Buckle for Strong Mastiff Dogs
These nylon dog collars are wide, extremely strong, super durable and easy in use. These adjustable dog collars are intended for strong, large dog breeds like mastiff types. Simple and smart design makes these nylon dog collars multifunctional for many purposes. There are no excessive details to bother you or your dog in walking, training and active use. But nylon dog collars are very comfortable to handle your large, powerful mastiff.
Adjustable dog collars will fit medium and large dogs. The size of these adjustable dog collars is easy to regulate and fix reliably and comfy at the dog neck. Just move the buckle and make the strap length shorter or longer. Once the size is fixed, it is easy to take the collar on/off by one simple click of the quick release buckle. In spite of its easy adjusting, the buckle is very strong and reliable. It will endure huge loadings of your powerful mastiff. You will easy walk your dog with this nylon dog collar. Just fix a dog lead to a D ring. It is strong, solid and rustproof.
Click and enlarge the photos of the adjustable dog collars
Any Weather Nylon Adjustable Dog Collars for Mastiff Training and Walking
Wide Nylon Dog Collars with Quick Release Buckle for Mastiff
Info of Adustable Dog Collars:

wide belt
2 ply
strong stitching
regulated size
easy and durable quick release buckle - time-saver!
solid rustproof metal ring
used in any weather
easy to clean and store

What are the Adjustable Dog Collars for?:

mastiff breeds
mastiff training
mastiff walking
at home/kennel

Sizes available:

1 1/2 in ( 40 mm ) wide
16-26 in (40-68 cm) long
20-30 in (50-78 cm) long

Available colors:
Simple and strong nylon dog collar is a necessary dog gear for mastiff. It will add comfort into your daily routine.
Strong nylon, adjustable dog collars look and fit great on Mastiff Breeds
Look at the photo from our customers
Click and enlarge the image of these adjustable dog collars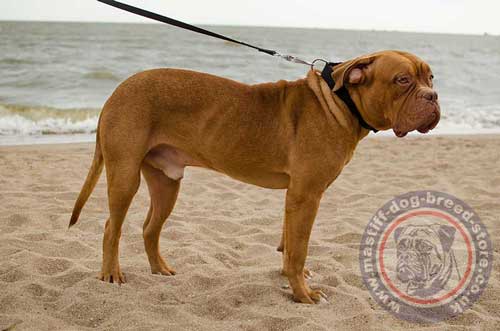 Adjustable Dog Collars for Dogue De Bordeaux