X Large Dog Collars Studded in 5 Rows, 3 in Wide
X large dog collars are special dog collars studded design for incredible style of your large dog! Superior large dog collar for large dogs breeds, like Mastiff types: French Bordeaux Mastiff, old English Bull Mastiff, Neapolitan Bull Mastiff, and other Bull Mastiff breeds.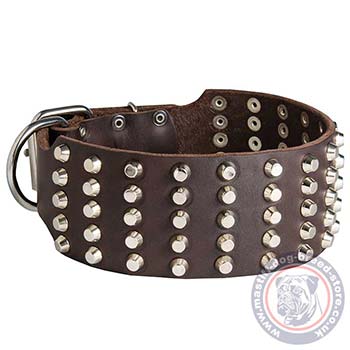 Superior Quality, Style and Comfort for Large Mastiff Breeds
Why X Large Dog Collars?:

extra fashionable glancing studded design
extra wide, soft and strong
superior quality materials
safe for dog
rust-resistant hardware
easy adjustable
5 rows of nickel studs, handset and securely fixed with rivets
strong buckle and ring
genuine leather, thick, soft and strong, well-done for long term use

Use of these X Large Dog Collars for:

comfortable, bright dog walking of a large dog breed
as daily large dog supplies for your Bull Mastiff
dog handling and walking in public
for vet visiting
reliable control when needed

Available sizes:

3 inch (70 mm) wide
17 to 40 in sizes available
1.19 lbs (540 g) weight

Available colors:
Define Mastiff dog size for these
X Large Dog Collars

:

Please be advised that:
Size of these x large dog collars is intended to fit your dog in the central hole.
There will be total of 5 holes and distance between each 2 holes is 1 inch (25 mm).
So, each collar has 2 additional holes by the sides of the cental hole to regulate the collar size.
For example: your dogs neck size is 20 inches (50 cm). Collar will fit on central hole at 20 inches (50 cm).
There will be 2 smaller size holes - 18 inch (45 cm) and 19 inch (47.5 cm).
There will be 2 bigger size holes - 21 inch (52.5 cm) and 22 inch (55 cm).
There will also be tip of the collar after last hole about 2 inch long (5 cm).
Those are handcrafted collars and some sizes will differ a little (not in significant way).
X Large Dog Collars Sizes are especially designed and handmade by specialists for large dog breeds. Our craftsmen take into attention all the details to make these X Large Dog Collars super reliable tools for large dog handling, walking and training.