Luxury Dog Collars for Dogs Fashion and Control
Luxury dog collars are new model of leather dog collars, handmade by our experienced specialists.
New luxury dog collars are intended to undergo huge loadings of a strong dog. These luxury collars for dogs handling perfectly correspond the needs of a Mastiff owner.
These elegant dog accessories will make your dog a bright and fashionable figure at walking and especially it will attract attention in public places. Your dog deserves the best quality. Choose smart style for your dog!
Besides, these luxury dog collars have strong and durable brass hardware and made of thick genuine leather to make control over your strong pet reliable.
Strong Leather Collar with Buckle and Luxury Spiked Design for Mastiff Walking
Choose the Best Quality and Style for Your Mastiff
The main features of these Luxury Dog Collars:

top quality genuine leather, thick and soft
well-done, with polished and waxed edges
absolutely safe materials
decorated with brass spikes
steel brass plated hardware
securely fixed with rivets
certified quality

Intended use of these Luxury Dog Collars:

intended for medium and large dog breeds
perfect dog collar for Mastiff dog breeds
handling of your dog in walking, training, in public places etc.

Sizes:

1 1/2 inch (40 mm) wide
from 0.56 to 1 lbs weight, up to the size

Available colors:
How to choose a proper size of Luxury Dog Collars:

Turn your attention:
We make dog collars fit the neck size specified at the cental hole.
There are 5 holes and distance between each 2 holes is 1 inch (25 mm). It is made for easy adjustment if your dog is growing or gaining/losing weight.
For example: your dogs neck size is 20 inches (50 cm). Collar will fit on central hole at 20 inches (50 cm).
There will be 2 smaller size holes - 18 inch (45 cm) and 19 inch (47.5 cm).
There will be 2 bigger size holes - 21 inch (52.5 cm) and 22 inch (55 cm).
There will also be tip of the collar after last hole about 2 inch long (5 cm).
Those are handcrafted collars and some sizes will differ a little (not in significant way).
Please, keep to the rules of leather items storage to make them serve you for a long term and to enjoy the quality, nice look and functionality.
Click on the dog collar picture to enlarge it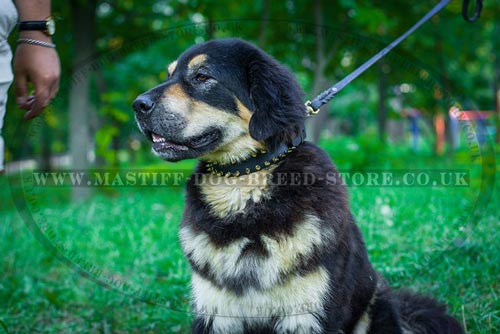 Brass Spiked Dog Collar of Tibetian Mastiff