New Dog Collars Collection with Brass Spikes and Skulls
Dog walking is not only a daily necessity, but also a possibility to show your gorgeous dog and be proud of its regal bearing, look and gait. Underline original breed and power of mastiff with a new spiked leather dog collar, decorated with brass cones and skulls! Super fashionable design will not leave the passers by indifferent and make them admire your dog. Your gorgeous mastiff deserves the best style and quality of dog accessories!
Our new collection of leather dog collars is the embodiment of fashion, style, comfort and durability.
Thick leather is well-done, smoothened and waxed for the best look and long term service.
This wide leather dog collar with strong, rustproof brass buckle and ring is a perfect choice for big mastiff walking.
Click on the image and open a larger one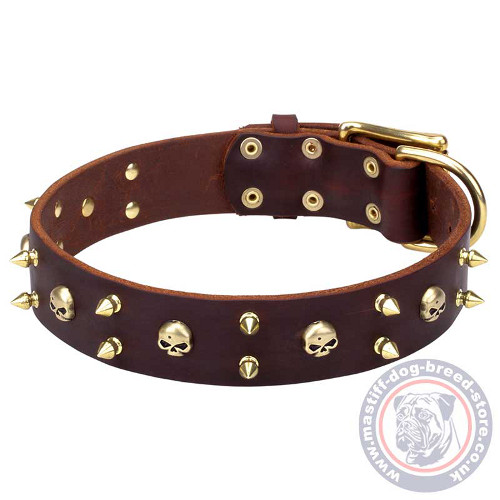 New Design Leather Dog Collars Collection 2016!
Click on the image and open a larger one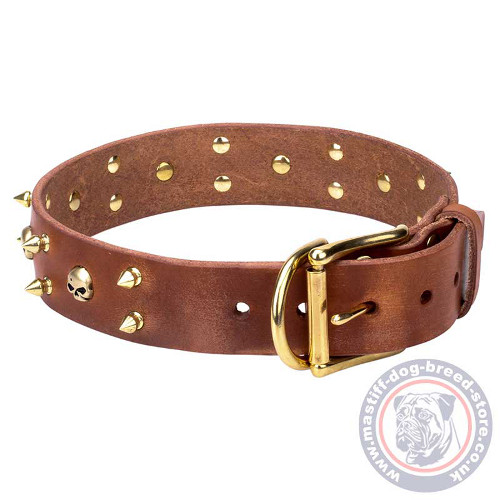 Natural Leather Dog Collar with Brass Buckle and Ring
Click on the image and open a larger one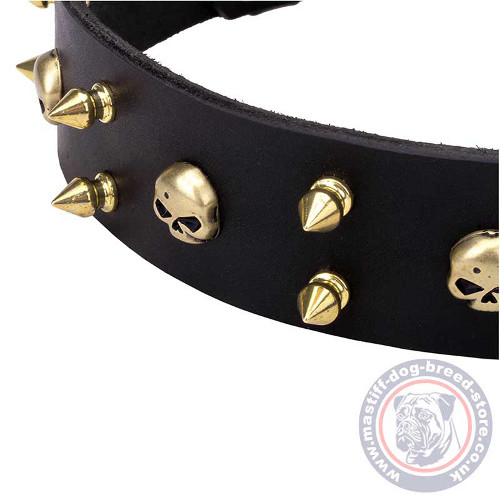 Black Leather Designer Dog Collar with Goldish Spikes and Skulls
Mastiff dog collars info:

genuine leather
3.5 mm thick
1.6 in (4 cm) wide
decorated with reliably riveted skulls and spikes
classic metal buckle and cast D ring
rustproof fittings
solid brass buckle and D-ring

How to use a spiked leather dog collar?:

perfect daily dog collar for mastiff walking
stylish dog collar for dog show

Available sizes:

Available colors:
Define your Mastiff dog size for a Collar:

Please, be advised, that:
Choose neck size from the options at the top and we will make a dog collar fitting on a central hole (С at the scheme).
Each dog collar with buckle has 5 holes on the distance of 1 inch (25 mm) from each other.
Example: if a dog neck size is 20 inches (50 cm), a correct collar size is 20 in (50 cm) at the central hole.
There will be 2 holes by the sides of the central one - 18 inch (45 cm) and 19 inch (47.5 cm) to make it smaller and 21 inch (52.5 cm) and 22 inch (55 cm) to adjust it if your dog is griowing or gaining weight.
The tip of the collar after last hole is about 2 in (5 cm) long.
As our dog collars are handcrafted, some sizes will differ a little (not in significant way). But you will always have the chance to adjust it maximum fit for your dog.
What else you should know about this Mastiff Dog Collar with Spikes and Skulls:
Designer dog collar with spikes is handmade to make your dog look gorgeous and feel comfy. Strong, large pet like Mastiff dog is the proud of any dog handler. To make your dog look awesome get this new leather dog collar to control your dog daily. New fashion leather dog collar will make your dog feel comfy, look attractive and be under your control in walking.