Nylon Dog Collars for Big Dogs with Rectangular Metal Plates
Nylon dog collars are strong dog collars with perfect fashion for big dogs of mastiff breed types!
These nylon dog collars imply the best qualities of mastiff collars! What do you expect from the best dog collar for mastiff? Our professionals designed mastiff collars to be: 1) incredibly strong; 2) absolutely safe; 3) smart looking; 4) easy and comfortable.
Nylon dog collars for mastiff breed types are 2 ply, surely stitched and fixed at all the details for secure and durable service daily.
Nylon dog collars are simple and easy, with a classic buckle and D ring for lead adjusting. But these are also cool dog collars with elegant design! Nylon belt is studded with rectangular plates that are made in old vintage style. All the angles are safe polished and smooth. They are surely fixed by inner rivets. Each rectangular plate is fixed by 2 rivets.
Strong nylon dog collars for big dogs made of nylon and decorated with chrome plated elements are multipurpose dog collars for all weather use.
Click and enlarge the image of these nylon dog collars
Information about the Nylon Dog Collars:

safely handmade
chrome-plated fittings
elegant rectangular plates
strong nylon
2 ply belt
strong metal buckle and ring

What are the Nylon Dog Collars for?:

mastiff breeds
medium and large mastiff breed
dog walking daily
basic dog training
control of mastiff temperament

Sizes of these Mastiff Collars:

1 1/2 inch (40 mm) wide
weight - 0.71 lb (320 gr)
for dog's neck 14-40 in (35-100 cm)

Color of Nylon Dog Collars:
Smart Nylon Dog Collars look gorgeous on Neapolitan Mastiff
Look at the pictures from our customers
Click and enlarge the image of these nylon dog collars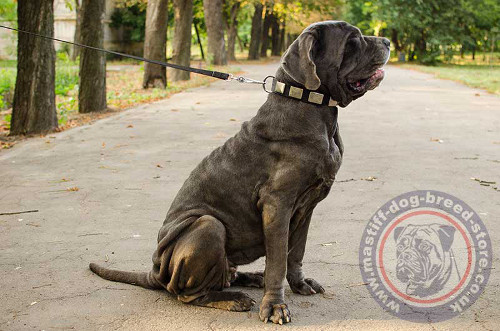 Neapolitan Mastiff Collars for Big Dogs Elegant Walking
Nylon Dog Collars for Big Dogs have the following size:

Size of the nylon dog collars for mastiff:
There are 5 holes for buckle adjustment.
The distance between the holes is 1 in (2.5 cm).
The collar will correspond to the neck of your dog at the central hole (C).
The 2 additional holes by each side serve to regulate the size if your dog grows or loses weight.
Nylon dog collars are easy to use, store, clean and wear. Nylon is a reliable, strong, waterproof material that does not stretch if gets wet. The decorations and fittings are made of rustproof chrome-plated steel, thus these mastiff collars may be used in any weather conditions. Rain is not an obstacle anymore for controlled dog walking with these nylon dog collars!