Strong Dog Toy - Dog Ball on Rope, Solid Rubber
Strong dog toy is made of strong and safe rubber and intended for a medium or large dog. It is a perfect dog chewing toy for your pet! The rope makes is a perfect tool for outdoor games, fetching and training of your dog to retrieve, catch and bring a toy.
Click at the photo and open a large image of this strong dog toy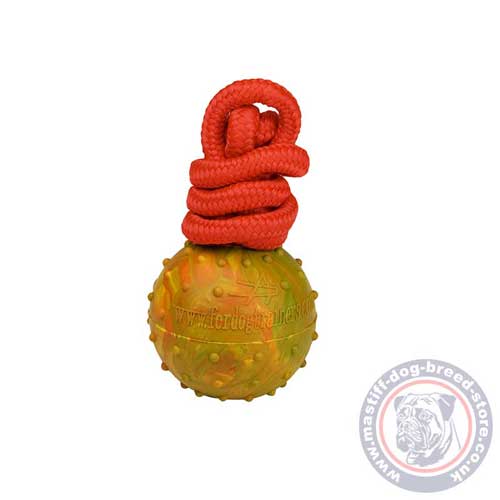 Mastiff Dog Toys for Chewing, Training and Fun
The main features of this Strong Dog Toy:

strong and safe rubber
solid ball structure
reliably fixed nylon rope
non-toxic
bright, easy to find in grass

Use this Strong Dog Toy for:

entertaining your dog
dog chewing
dog training
fetch and catch games

Dog ball on rope dimensions:

diameter - 2.8 in
rope length - 24 in (60 cm)
0.55 lb - (250 gr)

Color:
This is the bestseller strong dog toy for medium and large dogs. Solid rubber is a perfect material for dog chewing. Entertain your dog with this quality dog toy! It is perfect for interactive games with your dog and your dog will also enjoy chewing and rolling it on his own.