Mastiff Toy - Dog Water Ball
Mastiff toy is designed for active pets. It is a bright dog water ball made to be non-sinking in water and strong for dog teeth. The rubber ball is solid. Mastiff toy has a rope for interactive dog games, playing, fetching and towing. It is an interesting Mastiff toy to entertain your dog and to make a daily walking jolly, interesting and cheerful!
Click at the photo and open a larger image of this Mastiff toy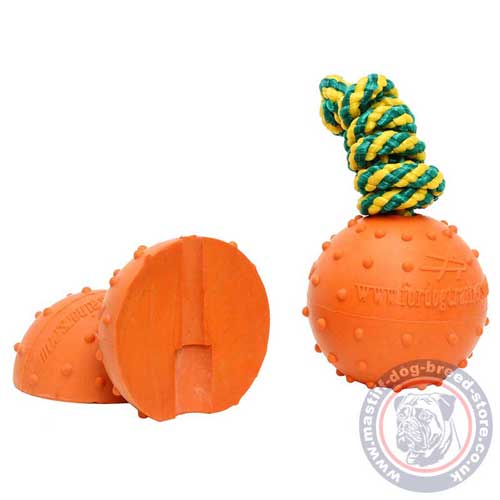 Non-Sinking Dog Water Ball for Mastiff
The main features of this Mastiff Toy:

safe and strong, light rubber
safe for dog teeth and gums
non-toxic materials
certified quality
bright color
strong nylon rope, reliably fixed to the ball

Use this Mastiff Toy for:

dog training
dog chewing
outdoor playing and training, dog games, especially at banks and seashores
fetch and catch games

Dog Water Ball dimensions:

diameter - 3 in (7 cm)
rope length - 24 in (60 cm)
4 oz - (110 gr)

Color:
This dog water ball is a perfect choice if you are living near the seashore or river, lake bank to play with your pet and not worry that you will lose its favourite toy! The bright design makes it easy to find the Mastiff toy in grass.