Sport Dog Harness for Mastiff Puppies and Big Mastiff Breeds
Sport dog harness is the embodiment of the best features of a functional, reliable, comfortable dog running harness for big mastiff breeds.
In the intention to make this sport dog harness extra durable, we made it of top quality nylon. This material makes this mastiff harness super durable, light and strong at the same time, easy in cleaning, drying and storage.
Nylon dog running harness is perfect for wearing in any conditions. Your dog will be under your control in frost, rain or heat without any discomfort.
Sport dog harness designed for mastiff is the right choice for tracking, pulling, walking, training and service. Its advantages are admitted by many professional trainers and common dog handlers all over the world. Try the bestseller sport dog harness and enjoy comfort in any activity with your dog.
Sport dog harness for mastiff is easy to adjust with the buckles to make it fit your dog maximum reliably and comfy.
Click and enlarge the image of the sport dog harness
Read the important details:

top quality nylon
easy storage
perfect for any conditions of weather
extremely strong
easy adustable, regulated dimensions
additional comfort with a back handle
solid D rings by the sides to use as a dog harness for pulling
D-shaped solid ring at the handle for dog lead
wide straps for super comfort of big mastiff breeds

Usage of the Sport Dog Harness for Mastiff:

big mastiff breeds
mastiff puppies
dog walking and training in any weather
tracking
service dogs
to control a strong dog reliably

Available sizes:

extra-extra-small
extra-small
small
medium
large
extra large

Available colors:
Check how this Sport Dog Harness looks on big mastiff breeds
Pictures from Our Customers
Click and enlarge the image of the sport dog harness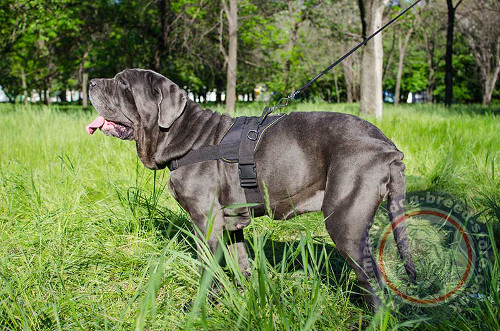 Strong Sport Dog Harness on Neapolitan Mastiff
Click and enlarge the image of the sport dog harness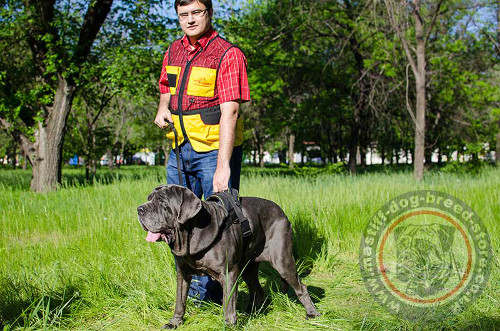 Mastiff Sport Dog Harness
Your dog will feel perfectly, free and move actively wearing the sport dog harness.