Dog Harness Vest for Mastiff Warming in Winter Walking
Dog harness vest for mastiff walking is intended for cold weather to make your dog feel comfortable and secure it from cold.
New warm dog harness vest is a special dog jacket that helps a dog keep natural healthy dog body temperature in cold weather conditions.
Our designers created warmed dog jacket for your pet.
Warm dog harness vest covers dog body entirely from neck to tail, that's why your dog feels absolute comfort and does not shake with cold.
Warm dog harness vest is easy to fix and fasten under dog girth. Wind will not manage to blow it off.
Large dog jacket-vest for mastiff has a hole at the area of a collar for lead if it is needed to be adjusted for dog walking. Warm dog harness vest has lines of reflective trim, that will help to notice your dog in darkness.
Jolly red-grey colors will make walking with your dog bright and stylish! Warm dog harness vaet is proposed in many sizes for mastiff puppies and large mastiff breeds. You may use it for other small and large dog breeds as well.
Click and enlarge the image of the dog harness vest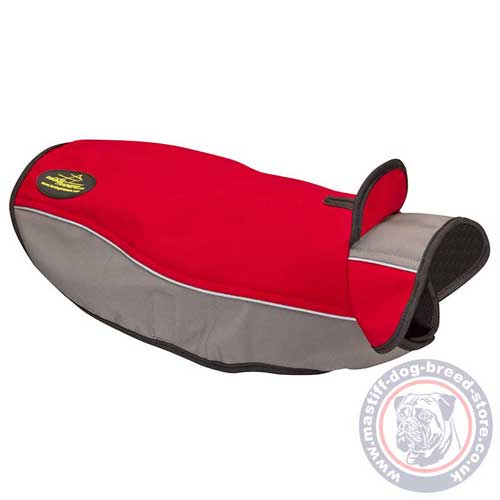 Warm Dog Harness Vest for Mastiff Winter Walking
Important details of the Warm Dog Harness Vest:

quality nylon
warmed design
breathable
keeps stable temperature of dog body
velcro adjustable
hole for dog lead at the collar area
light-reflective trims by the sides

Usage of the Warm Dog Harness Vest:

small and large dog breeds
mastiff puppies and big mastiff dogs
dog walking and training in cold weather, wind, rain, snow, frost

Available sizes:

Available colors: