Mastiff Training Dog Harness Handmade of Genuine Leather
Mastiff training requires reliable control. That's why our specialists designed a comfortable and extra strong dog harness for mastiff training. Mastiff training dog harness is created by hands of professionals. We take genuine leather of high quality to create a super durable, extra strogn dog harness, that would endure the huge power of your mastiff and make its training efficient and comfortable.
Mastiff dog training harness is padded. It has soft felt linings at the front and back plates. Soft felt prevents rubbing and protects a dog.
Mastiff training dog harness is fastened with rustproof rivets. The straps are easy and comfortably adjusted by buckles. You may choose nickel or brass plated fittings for the harness.
The extra strong dog harness may be even more comfortable and functional. It is available with a handle option for better control over your powerful pet.
View a larger image by clicking on the pictures
Genuine Leather, Extra Strong Dog Harness - UK Bestseller
Extra Strong Dog Harness for Reliable Control with the Handle Option!
Turn your attention, that the leather we use is well-done, thick, soft and flexible. It is 3.5 mm thick for super durability. Genuine leather is probably the best material for dog accessories, as it is natural, soft, strong and non-allergenic. Leather items will serve you for a long time if stored properly. You may read the general rules for leather items care at our article.
Check how this Mastiff Training Dog Harness looks on Mastiff Breeds
Pictures from Our Customers
Click on image and view a larger photo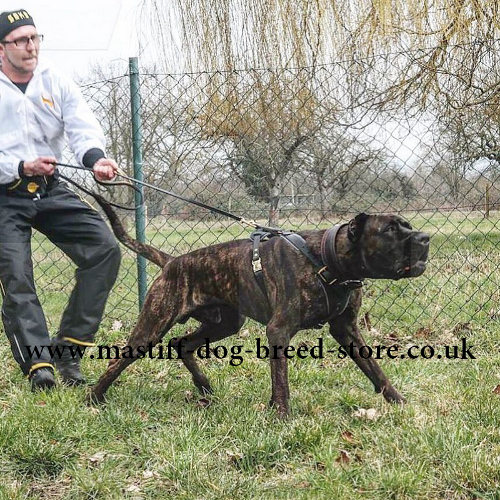 Strong Dog Harness for American Bandogge Mastiff
Click on image and view a larger photo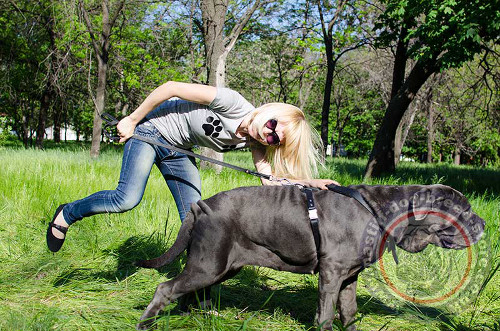 Neapolitan Mastiff Training Dog Harness
Click on image and view a larger photo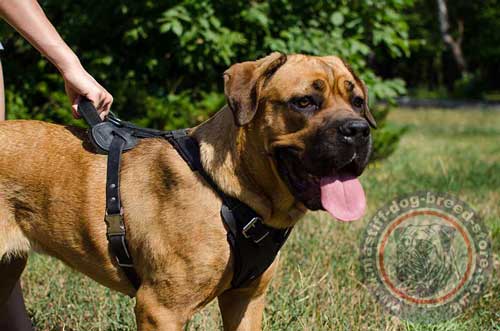 Extra Strong Dog Harness with Handle Option on Cane Corso
The benefits of this Mastiff Harness:

Dog-friendly, non-toxic, hypoallergenic materials
Well-done leather of high quality
Strong & rustproof hardware
Padded chest and back plates
Regulation buckles for size adjusting
The International Quality Certificate
Handcrafted

Intended use of this Training Dog Harness:

Mastiff walking
Mastiff training
Mastiff temperament control
For medium and large dogs
K9 dogs
Attack and agitation training

Sizes available:

Available colors:
Extra strong dog harness has a perfect design to train a large, strong dog and to handle mastiff temperament at walking.