V-Neck Dog Harness for Mastiff Dogs Walking & Training, with Soft Padded Chest
V-neck dog harness made of soft and strong leather provides your dog with supreme comfort! V-neck dog chest harness has a special design for comfort and reliability in control over large mastiff dogs.
The straps are easy adjustable to fix the dog chest harness reliably and cozy on a dog.
V-shaped chest is padded with soft fleece. It protects a dog from rubbing and injures. Use this V-neck dog chest harness for active dog walking and training.
Dog chest harness for mastiff will help you to control a large mastiff dog. You may choose it with a back handle for more comfort in use.
View a larger image by clicking on the pictures
The benefits of this V-Neck Dog Harness:

comfortable and reliable design
nickel-plated rustproof fittings
adjustable straps
genuine leather
soft padded V-shaped chest plate
quick-release buckle
handmade
reliably stitched, riveted cast D-ring for a lead
optional - back handle for a better control

Intended use of this Dog Chest Harness:

mastiff dogs
medium and large dogs
mastiff training
control mastiff in walking

Available sizes:

medium size
large size
extra large size

Available colors:
Mastiff dog breeds are the largest and the strongest canine representatives. You need a really quality gear to handle this powerful dog. Though mastiff temperament is calm and friendly and sometimes a dog is even unaware of its power, fortunately :). This large dog chest harness is intended especially for the needs of a mastiff owner. Our V-neck dog harness is super strong and comfortable! Dog trainers and owners use it for dog training and for reliable control over a strong dog in daily walking. Elegant classic design of this dog chest harness will make your mastiff look gorgeous!
Check how this Leather Dog Chest Harness looks on Mastiff dog breeds
Pictures from our Customers
View a larger image by clicking on the pictures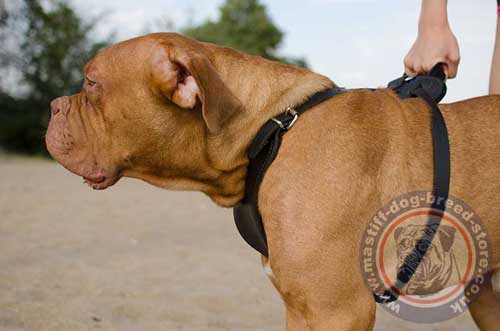 Leather Dog Chest Harness with Handle Option on Dogue De Bordeaux Mastiff
View a larger image by clicking on the pictures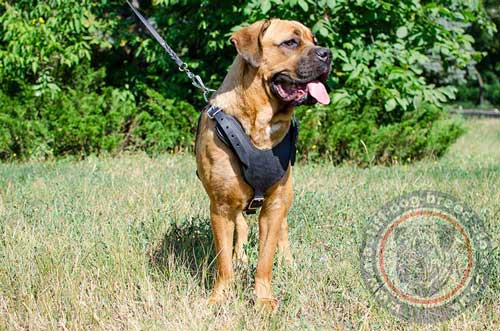 Large V-Neck Dog Harness for Cane Corso Mastiff
View a larger image by clicking on the pictures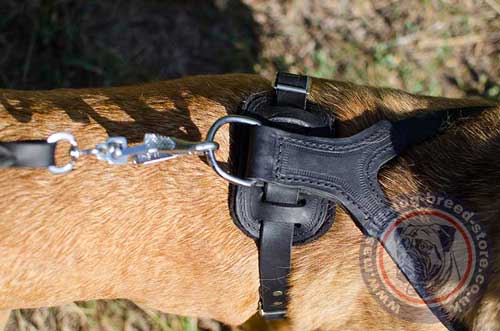 Mastiff Harness is Reliably Stitched with Attention to Details