No Pull Dog Harness To Stop Dog Pulling, For Efficient Dog Training And Comfortable Walking
No pull dog harness is the favorite tool of dog trainers as a pro dog harness and of dog handlers, as a comfy dog walking harness for mastiff.
Stop dog pulling is the question bothering many dog owners. That's why we produce this no pull dog harness in a rich choice of sizes for puppies and adult dogs of big mastiff breeds.
The size of the no pull dog harness is regulated by buckles on the straps. Thus, you may use it while your dog is growing. Do not forget to fill in dog's age and our specilists will advice the best option of size.
So, how does a simple harness design helps to stop dog pulling and make dog walking more pleasant, controlled and comfortable? There is a D ring at the front strap. Attach the dog lead to it and it will drive a dog aside each time it will try pulling ahead.
For a better handling of mastiff temperament there is a handle at the back of the pro dog harness.
Choose sign patches for a pro dog harness from the list of available ones.
Click and enlarge the image of the no pull dog harness
Key features of this No Pull Dog Harness:

light-weight construction
comfortable
wide adjustable straps
all weather
extra D-ring on each side
be-in-control handle
quick release buckle
id patches

Intended use of this No Pull Dog Harness:

professional dog training
daily dog walking
tracking
STOP DOG PULLING
control over a powerful dog
big mastiff breeds
mastiff puppies
service dogs

Sizes available:

extra small
small
medium
large
extra large

Available colors:
Check how this Pro Dog Harness looks on Mastiff
Pictures from Our Customers
Click and enlarge the image of the no pull dog harness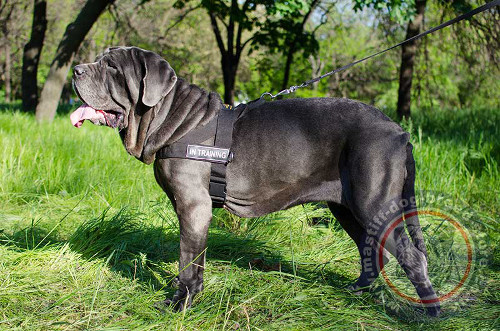 No Pull Dog Harness On Neapolitan Mastiff
Try the best pro dog harness for reliable control.