Dog Control Harness for Mastiff Training, Walking, Tracking, Control
Dog control harness for mastiff is a reliable nylon dog harness with handle. If you wish your dog to feel comfortable but keep its behavior managed, try this mastiff dog control harness. It is accounted for huge power of large mastiffs. At the same time this mastiff dog harness is very light. Nylon is durable, safe, easy cleaned and stored, light material. It may be used on mastiff puppies as well as on big dogs. The straps are easily regulated by buckles.
Special design of this dog control harness consists of two plates: back and front. They are strong and soft padded for the best comfort for your dog.
Dog control harness has a strong handle. You will manage the mastiff temperament easily with this quality mastiff gear.
Click and enlarge the image of the mastiff dog harness
Mastiff Dog Control Harness' important details:

handmade
certified, safe and durable materials
professionally designed
has light weight
each size is regulated to the definite extent
equipped with strong handle for reliable control
has 3 D rings: 2 side for pulling and 1 back for dog leash
soft chest plate

Usage of the Mastiff Dog Harness with handle:

dog control
dog walking
dog training
weight pulling dog sport
tracking
service dogs

Available sizes:

extra-small
small
medium
large
extra large

Available colors:
Check how this Dog Control Harness looks on mastiff breeds
Pictures from Our Customers
Click and enlarge the image of the dog control harness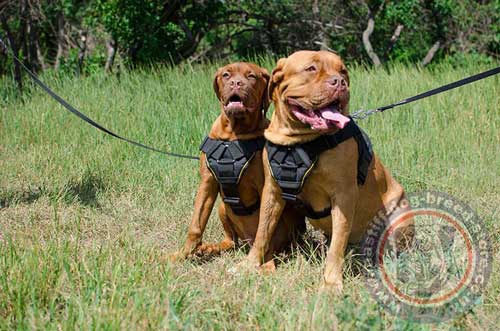 Dogue De Bordeaux Mastiff Dog Harness with Handle
This information may be useful to manage the temperament of Mastiff breeds: Mastiff Temperament | Mastiff Behavior
Find more nylon dog harnesses here►►►