Modern Dog Harness Leather Studded Design for Mastiff Dog Breeds
Modern dog harness design implies the best features of strong, quality, comfortable and safe dog gear for your favorite pets.
Modern dog harness is handmade, securely stitched and soft padded at the chest part.
Underline gorgeous look of your pet with a new mastiff harness with studded design! Brass studs at the front V-plate will make your dog look special and elegant.
Except of gorgeous look, your dog will feel comfortable with this modern dog harness. It is designed according to dog body form to make its moves free and comfortable.
Mastiff harness does not tighten dog moves, does not create any discomfort and allows you to control your strong dog reliably.
Attach a dog lead to the back solid D ring. Dog walking is easy and comfortable with this modern dog harness for mastiff dog breeds!
This mastiff harness is available in three colors: black, brown and tan (natural). Choose the one that will match your dog perfectly!
View a larger image by clicking on the pictures
The benefits of this Mastiff Harness:

professional design
adjustable straps for perfect fit
soft padded chest plate of V-shape
brass studs
reliably stitched and riveted
cast D-ring for dog lead for control in walking
handmade
the best price from the producer directly
world-wide shipping
International Quality Certificate

Intended use of this Mastiff Harness:

mastiff walking
mastiff training
medium and large dogs
elegant style and comfort of your dog

Available sizes:

medium size
large size
extra large size

Available colors:

black
brown
tan (natural)
This modern dog harness is an internationally certified product.
Check how this modern dog harness looks on Mastiff dog breeds
Pictures from our Customers
View a larger image by clicking on the pictures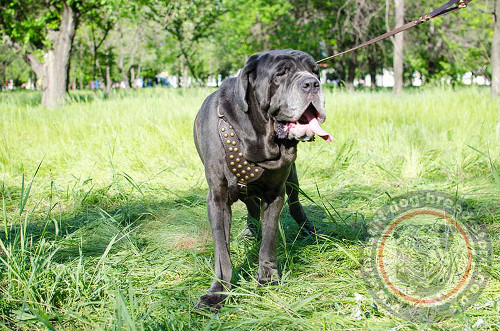 Modern Dog Harness for Mastiff Dog Breeds Comfortable Walking
Choose the combination of style and comfort embodied in this modern dog harness!